Gaia Video: New Media = New Rules?
by Dave Gill Dec/2008
This article has been read 13,075 times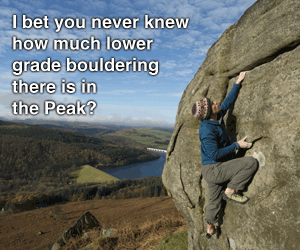 Popular Articles Right Now
Is it possible to improve your climbing without even trying? Jack Geldard thinks that a few small changes in your climbing... [ full article ]

UKClimbing.com interview Nathan Lee and Oli Grounsell about their recent quick ascents of Rare Lichen, E9 6c, in North Wales... [ full article ]

An antique axe believed to have belonged to George Mallory sold today at auction for a six figure sum. Alex Roddie explains why... [ full article ]

Related UKC Forum discussions



James McHaffie on the final (4th) Pitch of The Quarryman E8 7a


Jack Geldard - UKC Chief Editor, Aug 2008




© Jack Geldard

Films, magazines, websites and guidebooks. They all affect our climbing, in more ways than one. Dave Gill is a young and talented film-maker. Here he explores what the availability of video clips is doing to onsight climbing. For me, whether a route is climbed onsight is a very personal thing. Sometimes I just know it in my heart, and that is the beauty of climbing.

So I guess I'm more interested in the historical record, the perception of routes and ascents. Articles, films and guidebooks can turn routes in to testpieces, can turn men (and women) in to heroes. The media can distort history, or it can document the amazing. Look at The Quarryman - would it hold the same cult status if those amazing moves hadn't been captured on film? Or if Johnny Dawes' personality hadn't infused itself into that glass-like corner? Or would it be an obscure route in a dank hole? Actually, no it wouldn't, as the amazing climbing speaks for itself, but you might get my point.

Who knows?

Jack Geldard - Editor - UKC
---
Dave Gill has recently released a film called Call it what you want. You can read a UKC review by George Smith HERE.
He is a film maker, with a company called SteepMedia. If you are an outdoor company and you need some high quality film work for your business, you can contact Dave Gill here: SteepMedia.
---


JR off Gaia, Black Rocks
© Alex Messenger
VIDEOS & CLIMBING: New Media = New Rules?
By Dave Gill

20m. The stunning hanging groove; brilliant climbing, but restricted to the bold. The technical crux is getting into the groove but is well protected (easier for the tall, 6b). Superb moves above this gain a psychologically-draining rest point at the top of the groove where even breathing feels precarious! Slopers out right lead to the psycho-crux pull onto the arete with a high kick for a toe-hook, much gusto and a strong will to live.

© ROCKFAX
FA. Johnny Dawes 1986


Gaia is one of those routes isn't it. We all know about it. You'd be hard pressed to find many climbers that haven't stumbled across the horrendous fall in the opening scene of Hard Grit.

It's interesting reading peoples thoughts on the internet and in magazines, about how video is directly affecting modern climbing. When does watching a video give extra 'beta' or information? And when is watching a video just equivalent to reading a guidebook description?

Look at that scene from Hard Grit. It's a wide shot, displaying the obvious natural feature of Gaia. You certainly don't see that sloper on the left of the groove, or that right foot smear. I'd argue that watching this before going for the 'flash', would, if anything, have a detrimental effect on the climber. What's worse than having a mental image of what happens when things go wrong?

There's a reason why many climbing coaches recommend picturing yourself climbing the route successfully. None that I know of suggest picturing yourself falling off and breaking bones.

Let's compare the Hard Grit scene with something more recent, Big Up's film of Gaia, with Lisa Rands. Whilst the Dosage series are extremely popular, I'd hesitate a guess that Slackjaw's clip has been seen a lot more.

Big Up primarily filmed the route hanging on a rope, looking down the line. We can clearly see the holds that Rands' uses, we see close-ups of the gear placements and sizes. But, take a look in a guidebook. It's not uncommon to read a route description that is something similar to this:

"Climb up the groove to a good jug on the left, where good gear is reached (Friend 1.5), then traverse left to finish (using a hidden pocket around the obvious corner)." etc.

Gaia (and Black Rocks) has had a lot of press recently, what with "Team America" having a go. Honnold climbed the route from the bottom to the top, on his first go. He didn't fall off. He hadn't pre-inspected the line on a rope. But, he, like most, had seen clips of the route.

How much is too much? Have you watched Hard Grit? Would you claim the onsight or flash?

Below is another angle of Gaia that I filmed two days ago.

The climber is George Ullrich. He's seen the Hard Grit clip, and the Big Up film. He's attempting to flash the route...


Gaia (E8 6c) Flash Attempt from Dave Gill on Vimeo.

P.S. He walked away from the route with a bruised back and a limp, but says he's "all right now".

UKC Articles and Gear Reviews by Dave Gill: