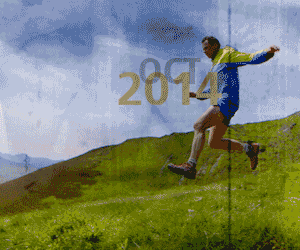 Popular Articles Right Now
Ben Davison is one of the rising stars of British sport climbing, having climbed 8c last year he climbed 8c+ just four years... [ full article ]

Shauna Coxsey is Britain's leading light in competition climbing, with two IFSC Gold medals to her name, placing 2nd overall in... [ full article ]

Rob Greenwood takes us on a pumpy outing with his 5 favourite E5s. Right Wall? Nope! Strapadictomy? Nope..! So which ones have... [ full article ]

Related UKC Forum discussions
We were delighted with the response and quality of the images and wish to thank everyone who participated. There were 88 entries: Competition Photo Gallery

The winners (images below) were Stuart M and his image of David Barrons cutting loose on Aegialis at Kalymnos, and Catherine Speakman and her image of walkers at sunset on Sidhean Mor.

They will both receive a Tendon Smart 10mm x 60m Rope, a C.A.M.P. Armour Helmet, a C.A.M.P. Air CR Harness and a pair of Fizan Compact Trekking Poles.

The images will be incorporated into our logo which as a result will be refreshed for 2011.

Once again thank you.

Allcord Managing Director, Kieron MacKenzie

[Missing photo!]

COMP NOW CLOSED - SEE ENTRIES: Competition Photo Gallery
Allcord (www.allcord.co.uk), one of UK's leading climbing and hardware distributors are running a competition at UKClimbing.com to find two images to use with their company logo.
They are seeking a sunset image of climbing and a sunset image of walking in the hills/mountains.
Each winner of this competition will receive the following worth £270:
A Tendon Smart 10mm x 60m Rope
A C.A.M.P. Armour Helmet
A C.A.M.P. Air CR Harness
A pair of Fizan Compact Trekking Poles
Winners must agree to unrestricted use of their image when used in relation to the Allcord logo.
Upload your entries to the UKC Competition gallery. Please post entries here at this link: UKC competition page
You are allowed six entries in each category and you can re-upload photos already in your UKC photo gallery if you have one. See below for more details about this.
You can vote on the entries and the winner will be decided by a combination of reader votes and a final decision by Allcord.
Please submit your images by October 29th. Winners will be announced in November. In the event that no suitable image is submitted the top two images (one of climbing and one of walking) as voted by readers will each receive a C.A.M.P Armour Helmet and a C.A.M.P Air CR Harness.
Only digital images are accepted.

You can upload new images that have not been seen before. After the competition these will be moved into the appropriate category in your gallery, with their new votes.
You can upload duplicate images that have already been uploaded to the your UKC galleries. After the competition these will be deleted in favour of the older version, retaining their older votes but not their competition votes.
You can move images from your UKC Gallery to the Competition Gallery but you will lose the existing votes if you do this. Click on 'Edit Photo Details' in order to move the photos between galleries. After the competition these will be moved into the appropriate category in your gallery, with their new votes.
Entrants accepted from Professional and Amateur photographers.

Please submit new entries at 950 pixels across for landscape or 600 pixels across for portrait format; JPG no larger than 250K.

Need advice on preparing your photos for the internet, read Photography: Preparing photos for the Internet by Nick Smith - UKC
No composite images - panorama stitches are okay, but no major photoshoped compositions please.

No borders, frames or watermarks.

A maximum of six entries per photographer in both categories.

VERY IMPORTANT: If your image is judged to be a winning one, Allcord will require a high resolution copy.

By submitting an image you are claiming sole ownership and copyright of each image.

By entering an image, you are accepting the possibility of that image being reproduced, published and exhibited for the promotional purposes of Allcord - winning photos only.