With a good forecast for the weekend ahead here's a few observations to help folk.
Most approach routes to the Munros are now well stomped; snow patches aren't very extensive but can still be slippy for the first few hours in the morning.
On the crest almost all the snow has gone but frustrating wee patches sit in the most useful ledges at times.
Collie's Ledge is still banked out right to the lip for a good 25m+ in the northern half; I pitched across from the last reliable spike right across to the next on Monday. The pics I've put up aren't great but you'll get the idea. Climbing King's Chimney would have been quicker retrospectively but that's not much use to Munro baggers. The steps will get slightly bigger this week but temperatures aren't due to rise for a while yet so I don't expect much change.
The Pinn has been dry but we were foiled by rime yesterday that had formed out of the cloud vapour and fierce winds; a rack & rock shoes may have made South Crack worthwhile apart from the subzero rock temperatures.
Pinnacle Ridge of Gillean-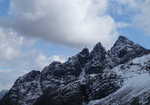 http://www.ukclimbing.com/images/dbpage.html?id=196238
is still going to remain as a pretty full-on winter style option and I've not heard of anyone doing it recently. Crampons for sure!
The abseil tat over Bidean hasn't been replaced as yet; King's cave tat all seems fine. I skirted the Gap so not sure about that. There is one good bit of tat on the lower of the 2 ab points off Dubh Beag.
Overall I think crampons and axe are sensible but more confident folk will cope fine without just as long as they are cautious.
The drop in wind, clear skies & sunshine should make everything a lot more friendly. There's enough fresh snow in patches to melt for cooking if you're struggling for water but remember to take enough gas.
Standard warning to treat the rocks with caution- nothing worse than usual but remember the weathering is a continual process. Have fun, Mike