| | |
| --- | --- |
| | / Guides in Huaraz Peru |
This topic has been archived, and won't accept reply postings.
Hi All,

I am travelling to the Cordillera Blanca in Peru in July and I am looking for a company to provide a guide for one or two guided peaks (I will be climbing alone as my partner does not climb). Nothing massively difficult.

I am looking for anyone's advice on guides they have used in the area, I have tried Skyline adventures after reading other threads on here and they have been very helpful, but can't get my itinery to match up with theirs. I have also tried Galaxia but have been unable to get them to reply to the contact form on their website.

Has anyone got any ideas / experience of guides in the area? I realise I could probably find someone in Huaraz when I arrive but want to take some of the stress out by having this pre-planned. I think I need a small guiding company which would be flexible enough to accomodate my needs.

Sam
In reply to
samrihughes:
Have you tried getting in touch with the Asociacion de Guias de Montana del Peru (Mountain Guide Association of Peru)? Admittedly, the office/info centre/meeting point (Casa de Guias) generally looked closed when I was there, but they have a list of all members so would be a good start.
Casa de Guias
Parque Ginebra 28G
Huaraz
tel. (+51)43 42 1811
email informes@casadeguias.com.pe
www.casadeguias.com.pe
There's a noticeboard that you can put a note on to look for partners too.
Try emailing or phoning Galaxia instead.
galaxia_peru@hotmail.com
(+51)43 42 5355
I have a few other random contacts in the town who may be interested in helping/organising something for you. Email me if you'd like some more info.
In reply to
Mark Westerman:
Yeah, Damian is good, I have worked with him for twenty years and he's always been reliable. If you've any trouble getting in touch with him let me know as I'll be out there this weekend.
John
In reply to
samrihughes: Another vote for Damian and the team at Highlands - they're very helpful in my experience. JG use them as their in country team.
In reply to
samrihughes: Know a few people who have used Galaxia and were happy, the guys in there are friendly and always willing to give out conditions info on stuff they've been up recently.
Great, thanks very much for the contacts, and for the Galaxia email address! I will try these and if I have no luck will check out those lists of guides mentioned.

I appreciate some very quick and helpful responses!

Check out Skyline Adventures - they were brilliant when we were there in 2010. Very professional - Ted and Jen will be able to organise anything you require. They are based in Huaraz but have a fantastic knowledge of a wide area in that region.
---
This topic has been archived, and won't accept reply postings.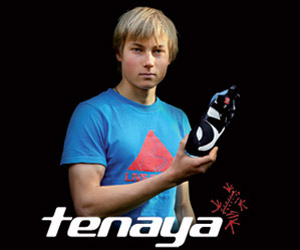 Elsewhere on the site
Rock shoes stink – let's face it. Boot Bananas are the perfect way to fight the funk and keep them fresh. They help... Read more
141219
0
Perhaps the perfect Xmas gift for the climber in your life... Wild Country's Crack School has two of the worlds best crack... Read more
141219
0
F ounded in 1993, Mountain Hardwear are a pretty young mountaineering clothing and equipment manufacturer but are also one of... Read more
141216
0
Tonight's Friday Night Video features the Norwegian town of Rjukan, once believed to be the home of the world's tallest... Read more
141219
0
The release of Peter Jackson's new film The Hobbit: The Battle of the Five Armies on 12th December may not appear to link to... Read more
141212
0
---