| | |
| --- | --- |
| | / Idiots chucking bottles at the Hawkcraig, Aberdour |
This topic has been archived, and won't accept reply postings.
We were gearing up at the western end of the crag last night when a glass bottle came down from above, just missed us and smashed on the rocks beside us showering us and our gear with broken glass. Not sure if it was deliberately aimed at us or even if the idiots knew there were folk below. We did not see them. I reported it to the police this morning but there is little. They said if that we had reported it at the time they would have come straight out.

The ledge at the top of fishhead arete will be covered in glass so watch your rope and gear up there. The tide will probably have washed the glass off the rocks below fishhead arete by now.
In reply to
Tom Baird: This seems to be a common problem at many central belt venues. The best thing I can suggest is that you go climbing in England or the Highlands.
Even Salisbury Crags in genteel Edinburgh seems to be sporting new cock-themed grafitti. Frankly, I wish I'd moved to Peru instead, but now I'm here I guess I'll hang around watching the societal rot for a few years before moving on.
In reply to
Tom Baird: I use Aberdour quite a lot mainly for sea kayaking, problems with pissed up yobs are not uncommon.
Waaay back in the sixties we were bombarded with rocks on Symond's Yat. Even the Joe Brown helmet hadn't been invented in those days.
In reply to
Tom Baird: Last year, we were on the ledge of fish head arete when a very large log was thrown from above, luckily my prtner saw it coming and had time take a step towrds me. It just skimmed off her helmet and shoulder, broke on the ledge beside us before crashing to the beach. Young boys were seen running away by a bloke in the hotlel garden, who seemed to think the idiots hadn't known there was anyone below.

In reply to
Tom Baird:
Definitely makes the case for wearing a helmet no matter the condition of the crag.
Once topped out there to be greeted by the sight of two of the locals 'at it' in a bush. Double meaning to calling safe that day....
Perhaps altering the signs that say 'danger - cliff edge' across the country to imply climbers are always there??
---
This topic has been archived, and won't accept reply postings.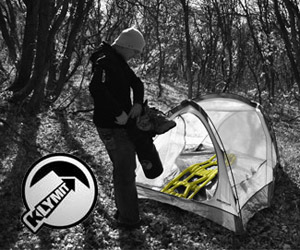 Elsewhere on the site
F ounded in 1993, Mountain Hardwear are a pretty young mountaineering clothing and equipment manufacturer but are also one of... Read more
141216
0
With four photos in this week's top ten, and a UKC gallery of stunning images we thought it was time we had a chat with... Read more
141203
0
Tonight's Friday Night Video features the Norwegian town of Rjukan, once believed to be the home of the world's tallest... Read more
141219
0
Rock shoes stink – let's face it. Boot Bananas are the perfect way to fight the funk and keep them fresh. They help... Read more
141219
0
Perhaps the perfect Xmas gift for the climber in your life... Wild Country's Crack School has two of the worlds best crack... Read more
141219
0