| | |
| --- | --- |
| | / Mont Blanc acclimatisation |
This topic has been archived, and won't accept reply postings.
Myself and a couple of friends are doing Mt Blanc via the Gouter route in the summer and will be based in Chamonix. Does anyone have any suggestions for good acclimatisation routes in the area, nothing difficult, but getting up high and onto a glacier or exposed ridge would be ideal, either on Mt Blanc itself or other mountains in the area, as long as they are reasonably close to where we are staying.
In reply to
jonwright:
Domes de Miage, the Rochfort Arete and the Midi-Plan traverse are all great exposed ridges, and Mont Blanc de Tacul is high and easy.
In reply to
jonwright:
Doing a route or two around the Albert Premier is a good warm up. Lots of easy choices around Aiguille de Tour, Fourche etc.
In reply to
jonwright:
What worked for me:
Stayed Albert Premier 1 night. Tried two routes over two days on Aiguille du Tour. Voie normale and Col Superior du tour. Bad weather and the first time on glaciers didn't go too well. We had a party of 4 and 2 members had some degree of snow blindness on both days, make sure all your party have decent glasses! Coupled with the poor weather and crap route finding (right across the crevasses) we abandoned both attempts.
Day 3. Climbed with my regular climbing partner successfully on the Cosmiqes Arete, Aiguille du Midi. We had a late start and just made the cable car down.
Day 4. Started Gouter route, stayed in Gouter hut.
Day 5. Summited. I was probably aerobically the fittest at the time (3 of us summited), but I suffered the most due to altitude. Just had a bit of a headache and was slower than the other two, but was okay.
In reply to
jonwright: What is called the Three Cols route, Argentiere ref, Col du Chardonnet, a 'fenetre' whose name I have forgotten to a Swiss hut whose name I have also forgotten!!!! and back over another col to the Albert Premiere hut, but no need to stay there. Think I had better check those forgotten names!
In reply to
jonwright:
Simple (probably abit repetitive doing it twice) but worked fine for us was:
Up to Tete Hut on the Gouter Route, there are various minor little routes up there, so different scenery can be seen. But nice and easy. Stayed the night, and then headed back to Chamonix. Recovered for a night in the low valley.
Then the next day up the same route to Gouter Hut. Next day summit and back to Chamonix.
Beautiful
Worked fine for us :)

In reply to
rob malik:
This would be my suggestion, however a trip up to the dome de gouter and back to the tete would be good to save your knees all that decent.
---
This topic has been archived, and won't accept reply postings.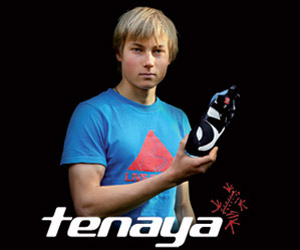 Elsewhere on the site
Rock shoes stink – let's face it. Boot Bananas are the perfect way to fight the funk and keep them fresh. They help... Read more
141219
0
At a bar in Llanberis an old man chimed in And I thought he was out of his head Being a young man I just laughed it off When... Read more
141203
0
Perhaps the perfect Xmas gift for the climber in your life... Wild Country's Crack School has two of the worlds best crack... Read more
141219
0
Tonight's Friday Night Video features the Norwegian town of Rjukan, once believed to be the home of the world's tallest... Read more
141219
0
F ounded in 1993, Mountain Hardwear are a pretty young mountaineering clothing and equipment manufacturer but are also one of... Read more
141216
0
---