| | |
| --- | --- |
| | / Japanese Alps - Daikiretto |
This topic has been archived, and won't accept reply postings.
Not sure how familiar people will be of this but we're planning on doing the classic 3 day Kamikochi loop hike in mid July and wanted to know if people had any specific knowledge of a section of this hike called the Daikiretto.

Essentially looks like a narrow ridge which you descend and ascend with the help of steel ladders, platforms, etc.

I'm fine with this but am nervous my girlfriend will struggle with the exposure. The Lonely Planet guide says no specialist equipment is required in summer but other websites suggest it's madness to do it without ropes, etc.

Anyone got any experience of this route? If so do you have a view of how it compares to some of the ridges in the UK, such as Crib Goch, Striding Edge, CMD Arete, etc? Does it need any rock climbing skills or just a head for heights? That sort of thing.
In reply to
James1982:
I did this in 1995. It is the best scrambling trip I have ever done.
In terms of technical difficulty there is nothing that I would regard as rock climbing as opposed to scrambling. Ladders and chains overcome bits that would otherwise be rock climbing. Technically any fit person could do it.
However, it is long and very exposed. I must confess to a slight pause for thought when I first saw the route so I think it could be quite intimidating to the inexperienced. The trouble is that unlike say, Crib Goch, which has a couple of bad steps and is then over, this one goes on for hours. It may just be worth taking a short rope and a couple of slings just in case
In terms of comparisons I am not familiar with Scotland but in welsh terms it would be like the N ridge of tryfan, bristly, and crib goch all in succession but bigger,longer and steeper. Maybe throw in the cneifon arÍte but with a ladder for the first bit! Remember, the scale is much more alpine than welsh.
I did it at the end of the season in september when there was just me and a group of mad Koreans on it (all Koreans are mad of course). In July it is reputed to get very crowded which could be good news because some of people may have a rope with them but bad news because it increases the risk of rockfall and of course the general pratting around.
Hope that helps. Basic message is that it is not technically hard but it can feel quite intimidating and is big. Feel free to ask more although my memory is fading a bit!
In reply to
James1982:
I did this about 5 years ago when I lived in Japan. You don't need any ropes and I didn't see anyone with any gear like that (it was summer). There are a couple of exciting sections but the worst of them is no worse than the most exposed sections on Crib Goch. In fact I was more scared on Crib Goch. It's an amazing hike but a pretty long one. I did it solo and camped so had a lot of gear and the first day was a real toughy, definitely start early! Worked my way through most of the Lonely planet hikes in the Alps while I was there and this one was my favourite.
There'll be plenty of ill prepared locals on the Daikiretto who are a lot more scared than I'm sure you two will be!
In reply to
James1982:
Not much to add to what the others have said really, but I would recommend caution if your girlfriend is afraid of heights or exposure... This is not the place for her to freeze up. It's basically mostly straightforward, and as already said, there are ladders and chains where needed, but there are also long sections where you're scrambling on pretty exposed rock without chains/ladders. The section that might give your girlfriend the biggest pause (sorry, I'm making all sorts of assumptions there!) could be the final climb up to Mt Kitahotaka at the end... it's fairly steep, gets increasingly exposed, and you're basically following faint and washed out white circles painted on the rock... no chains on this long section, but the holds are all there as long as you're happy on that kind of terrain. If I was taking my wife across it I would probably take a short rope and make a basic chest harness from a sling for her.
It doesn't really compare to Crib Goch or the CMD because it's far longer. Certain sections of the Orla Perc ridge traverse in the Polish Tatras would be a good frame of reference, if you've been there.
Enjoy it... definitely the most fun you can have in Japan before crossing over from hiking into climbing :)
Tony
In reply to
James1982:
Have been along it a couple of times. It's a great route. You really can't compare it to anything in the UK due to the length and height plus the fact that ironware covers the technical bits. I assume you will do it anti clockwise, if so you will no doubt ascend Yari. If your gf is not happy reaching the summit of Yari, I wouldn't continue across to Hodaka. Also worth noting that the exposure isn't all on the daikiretto, the section around Karasawa dake will also focus your tired minds.
When you get back to Kamikochi I suggest you head to one of the hotels for a bath/onsen, perfect way to end the trip.
Hope you enjoy it and you get good weather, it really is a super route.
Thanks for the advice all, much appreciated.

Pretty sure when I send the Mrs the link to this thread I know what her reaction will be. Shame as it sounds like a fantastic route.

Realistically I think we'll have a crack at Yari and see how she gets on then make a call at the hut on whether to progress or head back to Kamikochi to do some simpler hikes.

Clearly the Daikiretto is long but going at a steady pace and assuming the crowds aren't too bad roughly how many hours are we talking, if possible split by the descent part and then the ascent up the other side to Hotaka?

Also does anyone know if there are routes up Hotaka from Kamikochi that don't involve the Daikiretto? Or for that matter any other interesting but less intimidating treks from Kamikochi?

Thanks again.
In reply to
James1982:
The time given on the hiking map for Yari hut to Kita hotaka hut is 6 hrs, roughly 3hrs down and 3 up. LP says 6-8hrs.
You can hike up Hodaka direct from K'kochi (map time is 7 hrs) but if you're fit you'll do in about 4. From the Hotaka hut you could then descend east down into the Karasawa cirque and then loop back to Kamikochi. There are also many alternatives in the area for other scenic hikes.
Personally, if i were you I'd stick with your plan of doing the full traverse and make a plan B at the yari hut if you need to.

Just bumping this topic as have another question that hopefully you guys can help with.

I have very little experience of ropework having only spent a couple of weeks in the Alps on a guided course, with everything else being scrambling, trekking, etc that didn't need any rope.

I see quite a lot of comments on here around a "confidence rope" and in this particular thread a reference to using a sling to make a simple chest harness. Could someone briefly explain or point me to a link where I can learn how to do this?

The "confidence rope" in particular sounds like exactly the sort of thing which could help overcome some of my partner's fear!!
---
This topic has been archived, and won't accept reply postings.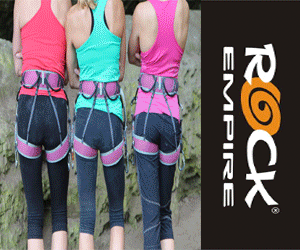 Elsewhere on the site
Climbing Technology's range of winter hardware continues to grow and for winter 2014 they have a crampon in the range to... Read more
141217
0
This years ROCfest will be slightly different. We've decided to run a Climbing Festival, not just a competition! Over... Read more
141216
0
F ounded in 1993, Mountain Hardwear are a pretty young mountaineering clothing and equipment manufacturer but are also one of... Read more
141216
0
With four photos in this week's top ten, and a UKC gallery of stunning images we thought it was time we had a chat with... Read more
141203
0
Steve Dunning has made what is likely the tenth ascent of The New Statesman, the classic and bold gritstone arete at the Cow... Read more
141216
0
---