| | |
| --- | --- |
| | / Cycle Tour from Santander to Marrakesh |
This topic has been archived, and won't accept reply postings.
Hi guys,
I'm currently planning a route with a friend to cycle from Santander (Northern Spain) to Marrakesh (Morocco) and am asking for any information that people have.

We both cycle regularly, last year cycling from London to Berlin and back in 13 days, we have also had some fantastic experiences on Spanish oads and hope to find a fairly direct route. We aim to do around 80-100 mile days with weight as well, all we need now is advice from people that have been there done that got the t-shirt.

Some parts I'm having trouble with researching are:
-The route, avoiding hilly areas (especially in Spain)
-Whether roads to Marakesh will be good enough for a light hybrid bike
-conditions
-sites to see en route
-places to stay in Morocco
-anything else you can think of.

Any help would be reallly!!! appreciated!

Thanks!

Tom Roberts
I've only managed to find a few blog posts so far
Thanks for your reply Andy, it was really helpful, if you have any more info, I'd really appreciate it.

Tom
In reply to
tomdavidroberts: I'm about to set off for Santander from Madrid tomorrow so I can let you know how it goes when I get back on Thursday.
are you planning to cross into Moroccos at Algeciras? When it comes to hills you basically have no choice as soon as you get out of Santander - the only way is up - but once you're over the lip you then drop onto the big plateau across central spain which is more or less flat until you get to the sistema central which runs from portugal to east of madrid. After that I think it depends a bit on the route you take. but I think if you went well west of madrid and down to algeciras you'd skirt round some of the mountainous parts of andalucia.
In reply to
Bob Hughes: I went climbing in the Picos de Europa over easter this year so I'm aware that just south of Santander we have a pretty much compulsory climb, we are absolutely fine with this but obviously with 20kg of weight on the bikes we want to keep shy of hills. So far it sounds like the North is pretty hilly and providing we keep west of madrid we should be ok. Do you agree?
In reply to
tomdavidroberts: Hi Tom, I've just got back from Madrid - Santander. Yes, basically the first thing you will have to do from Santander is cycle through hills. It's not just one climb.
We came over a pass that comes out at Cabezon de la Sal, about 40k West of Santander.
It's A beautiful pass but I wouldn't want to do it the other way - you'll climb to 1200m then drop to 850m and climb up to 1200m again then drop to 800m. From there there's a gentler climb to about 1100m and after that you drop onto the meseta which rolls between 800 and 900 metras till you get to the sistema central.
i've just looked at the map and, further east there are a series of other opitions, two are main roads and then aother is a nice road through vega de pas but also involves a lot of climbing.
But assuming you've got onto the meseta... in my previous post i think i was wrong. However far west of madrid you go, you'll hit hills. The centre of Spain has a spine of mountains running east-west from portugal to east of madrid. if you're dead set on avoiding it, i think your best bet would actually to go east of madrid via soria. But honestly that seems like a long way round - I think you'd have a nicer ride if you went west and over the hills. The Sierra de Gredos (west of madrid) is basically 2 high passes then you're back on La Mancha.
Then south of that i'm afraid i can't help. I haven't cycled south of madrid.
I hope you have a good trip, anyway. it sounds like a cracking plan!

In reply to
tomdavidroberts: when you get to Morroco dont go on the coast road,and then inland to Marrakesh its very likely you could get stopped and robbed ,its renowned for it ..
---
This topic has been archived, and won't accept reply postings.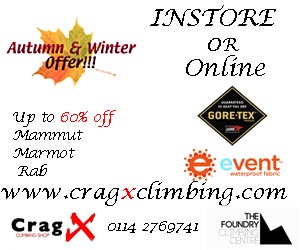 Elsewhere on the site
This years ROCfest will be slightly different. We've decided to run a Climbing Festival, not just a competition! Over... Read more
141216
0
Climbing Technology's range of winter hardware continues to grow and for winter 2014 they have a crampon in the range to... Read more
141217
0
F ounded in 1993, Mountain Hardwear are a pretty young mountaineering clothing and equipment manufacturer but are also one of... Read more
141216
0
Steve Dunning has made what is likely the tenth ascent of The New Statesman, the classic and bold gritstone arete at the Cow... Read more
141216
0
The release of Peter Jackson's new film The Hobbit: The Battle of the Five Armies on 12th December may not appear to link to... Read more
141212
0
---