| | |
| --- | --- |
| | / BUPA Great North Run |
This topic has been archived, and won't accept reply postings.
Back in January, the better-half suggested that it would be a good idea to do the BUPA GN. Sounded great too me, better than watering the money against the wall at the local, and in a "done it" kind of way. However, knowing how popular it is and how great people are at profiteering, I should have thought about checking the surrounding details.

There are plenty of options for accommodation but they all cost a fortune. For example, a camping bed in a hall with 300 other people for £25 each. Or a travel lodge etc for around £100.

Anyone have any genius ideas/knowledge of local farmers that will let people camp the night for a more regular camping fee? I'm thinking of doing the drive (about 3 hours) on the morning of the run, just out of principle of not paying that sort of money when I'm running for charity. But I guess, that in itself will produce all sorts of logistical problems with getting there on time.
In reply to
Voltemands:
your right it isnt a cheap do once you've thrown in accom/food etc but if you can splash the cash then paying to stay somewhere local to the race is well worth it.
staying near the start you can check out the great city games on the saturday afternoon and not have the hassle of travelling far/parking miles away on the sunday morning.
the other option is that you find accom near the finish. get the train into newcastle on sunday morning and then your car etc is already at the finish when your done. you would need some old clothes to stay warm in that you dont mind binning just before the start of the run for this.
In reply to
tom290483: Looks like the latter might be my best option, thanks.
In reply to
Voltemands:
This post brought back memories of when I did it in 2006. We managed to book a hotel in Whitby Bay OMG that was an experience for a Devonshire girl. It was nothing short of skanky with a night club below our room and as for the night life well the girls up there are hard!
If I did it again I'd book a lot earlier and go for the best I could afford.
That all said the run was brilliant and the hospitality along the roadside from the locals was awesome. The finish along South Shields was great especially as I timed it to perfection with the Red Arrows fly past. Getting back into Newcastle from South Shields afterwards is a bit of a faff so don't expect any quick getaways.
La Sham
In reply to
La Shamster: Yep, really surprised I didn't think about booking when I entered but I had so much on at that time, must've slipped my mind.
---
This topic has been archived, and won't accept reply postings.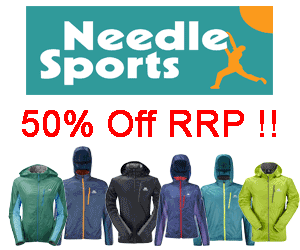 Elsewhere on the site
The release of Peter Jackson's new film The Hobbit: The Battle of the Five Armies on 12th December may not appear to link to... Read more
141212
0
Rock shoes stink – let's face it. Boot Bananas are the perfect way to fight the funk and keep them fresh. They help... Read more
141219
0
Perhaps the perfect Xmas gift for the climber in your life... Wild Country's Crack School has two of the worlds best crack... Read more
141219
0
F ounded in 1993, Mountain Hardwear are a pretty young mountaineering clothing and equipment manufacturer but are also one of... Read more
141216
0