| | |
| --- | --- |
| | / Some advise on clip ins |
This topic has been archived, and won't accept reply postings.
Hi

Moving from standard pedals to clips ons have been recommended shimano as30 and SP Tahoe leathers. Its for commuting , want more power but also some comfort and confidence , any views ?

Cheers
In reply to
kingjam:
Had me confused there - as30 are Shimano wheels, A530 are the pedals.
Assuming you mean those, then yes they should be fine.
What are SP Tahoe leathers? I'm assuming they are shoes. With footwear it's always best to try them on, just head down to your LBS and try a few different pairs on, just make sure they are compatible with the pedals.
ALC
In reply to
kingjam:
I have Shimano M540s and MTB shoes on my road bike. The SPDs are easy to get in and out of and wearing MTB shoes means that I don't sound like a tap-dancer when I'm walking across the car park.
I do keep wondering about getting proper road pedals (I was advised to buy SPDs initially to get used to them as they're easier to clip in and out of) but I haven't yet decided if it's worth spending the money as my shoe/pedal combo seems fairly comfortable.
In reply to
kingjam:
Do you mean Specialized Tahoe shoes? If so, I've got a pair and they are fine. I find the laces keep coming undone though and would next time get a pair with a velcro fastening over the top (as well as laces). If buying online I found them to come up a little large so may be worth ordering 1 euro size down eg. If you are a 'small' 46 get a 45..
MTB spd's and shoes are well worth it for cummuting due to the extra feet down and walking moments.
In reply to
kingjam:
>"shoes"
For commuting you are better with nylon mesh shoes with as little padding / solid panels as possible. This type of shoe will dry out quicker.
Neoprene over boots are good in the cold/wet.

In reply to
kingjam: I've got a pair of Tahoes they've lasted for years. They can get a bit waterlogged in heavy rain but nothing shoe covers (or an hour on the radiator) can't sort.
If you're trying clipless for the first time why not go for a double sided pedal then you don't have to worry about which side is facing up. You can pick up Shimano M520 for pennies. Adjust the tension so you can get your feet out easy enough and after a bit of practice you shouldn't really have to worry about confidence on the road. I only worry when I'm about to fall sideways into a rock garden on the MTB.
---
This topic has been archived, and won't accept reply postings.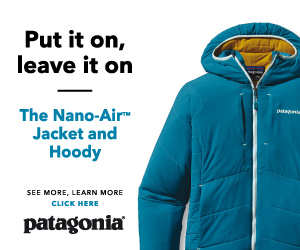 Elsewhere on the site
Rock shoes stink – let's face it. Boot Bananas are the perfect way to fight the funk and keep them fresh. They help... Read more
141219
0
F ounded in 1993, Mountain Hardwear are a pretty young mountaineering clothing and equipment manufacturer but are also one of... Read more
141216
0
Perhaps the perfect Xmas gift for the climber in your life... Wild Country's Crack School has two of the worlds best crack... Read more
141219
0
At a bar in Llanberis an old man chimed in And I thought he was out of his head Being a young man I just laughed it off When... Read more
141203
0
Tonight's Friday Night Video features the Norwegian town of Rjukan, once believed to be the home of the world's tallest... Read more
141219
0