| | |
| --- | --- |
| | / France climbing areas? |
This topic has been archived, and won't accept reply postings.
Im heading out to the south of France for a couple of months from September with out transport or a partner. Im wondering which would be the best places to go to find partners? Any info would be great! Thanks.
In reply to
Megan01:
Ceuse. Campsite within walking distance. Can hitch to Gap to go food shopping. Easy to find climbing partners there. It'll be hot though, but ok if you climb early/late in the shade.
In reply to
Megan01: Ceuse is your best bet I agree. I'll be there in September with some friends if you want someone to climb with. You should be able to arrange trips from there to other destinations too. I've tried just turning up at Buoux a few times and found the crag and camping almost deserted - bit of a backwater these days. Verdon might be better but transport would be an issue.
In reply to
Megan01: How hard will you be looking to climb? I'm considering a similar trip in september, wanting to focus on mutli-pitch. Verdon seems an obvious choice, but there seems to be loads of similar stuff around grenoble also (eg presles). Also not sure how much kit i'd have mind you.
In reply to
sirreal: Okay thanks. I wont be there till towards the end of Sep but if your still about i may be looking for a partner!
In reply to
Heddwyn: Im looking to climb around 6c/7a some 7b's hopefully. Im also looking to do mostly single pitch but i will have all the gear for sport.
I would go to Verdon, easy to hitch and quite busy in September as it's cooler than summer.

There is only two campsites, Municipal and Jean Paul's (nice open barn and fire to use.

You are bound to meet other climbers - swedes, germans - and native english speakers.

Have fun !
---
This topic has been archived, and won't accept reply postings.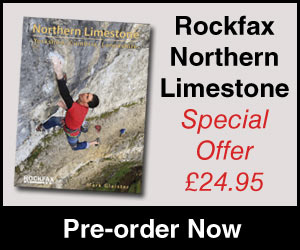 Elsewhere on the site
Rock shoes stink – let's face it. Boot Bananas are the perfect way to fight the funk and keep them fresh. They help... Read more
141219
0
The release of Peter Jackson's new film The Hobbit: The Battle of the Five Armies on 12th December may not appear to link to... Read more
141212
0
F ounded in 1993, Mountain Hardwear are a pretty young mountaineering clothing and equipment manufacturer but are also one of... Read more
141216
0
Tonight's Friday Night Video features the Norwegian town of Rjukan, once believed to be the home of the world's tallest... Read more
141219
0
Perhaps the perfect Xmas gift for the climber in your life... Wild Country's Crack School has two of the worlds best crack... Read more
141219
0
---