| | |
| --- | --- |
| | / Alpspitze KG-Weg Advice |
This topic has been archived, and won't accept reply postings.
Hi,
My partner and I are heading down to Garmisch Partenkirchen on 7th September and looking to get in a few routes in the area. We were thinking of doing KG Weg (
http://www.ukclimbing.com/logbook/c.php?i=195503)
but looking at the guidebook it appears there is a snowfield between the lower and upper sections. Has anyone climbed this route around this time and do you need to take winter gear for the snowfield? I'm not loving the idea of lugging my boots & crampons up with me just for a short snow section!
Cheers
Tom
In reply to
thomaspomfrett:
Hi Tom,
I have done "Sonntagsausflug" just left of the KG-Weg a couple of years ago. In August, there is no snow left, it's just a large scree field which you have to cross carefully to get to the upper section. So definitly no winter gear required. However, September is quite late so it might actually snow up there. But then it's too cold and wet anyway... All the routes there have bolted belays and the harder sections have quite a few bolts in them. zou might want to take a small rack but if you're fine on easier ground, you probably won't need it!
In reply to
Stephi: Amazing, thanks for the advice Stephi! Will see how we do weather wise, it's early September so fingers crossed it's still warm enough.
In reply to
thomaspomfrett: You are unlikely to have any old snow, however the year before last it snowed on August bank holiday weekend right down to 1600m thus rendering the Mauerlaufer via ferrata on the Alpspitze out of the question according to the mountain guides when we phoned them up - they said the cables would be iced up. Good luck, and if it's a no-go then the 'Mittenwalder Hohenweg' via ferrata is a great alternative day out, as is getting out of the Alpspitze cablecar at the middle station and walking down the Hollentalklamm gorge.
In reply to
thomaspomfrett:
Went there a few years ago in mid-late Jun and there was quite a lot of snow, although it cleared quickly. Didn't do that climb but did do an easier one further right and finished up the Alpspitze klettersteig to the summit. No need at all for winter gear when I was there - I think it's worth a punt without it and it looks like a great route.

In reply to
thomaspomfrett: If it's properly wet, there is an excellent DAV indoor wall at Bad Tolz, with other walls at Weilheim, Gilching and the biggest wall in the world in Munich. Innsbruck is a good touristy place too, and engineery/science types will like the Deutsche museum in Munich (biggest engineering/technology museum in the world).
---
This topic has been archived, and won't accept reply postings.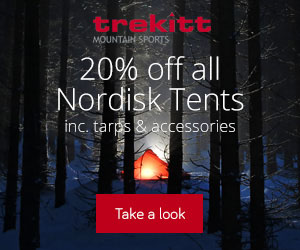 Elsewhere on the site
F ounded in 1993, Mountain Hardwear are a pretty young mountaineering clothing and equipment manufacturer but are also one of... Read more
141216
0
Rock shoes stink – let's face it. Boot Bananas are the perfect way to fight the funk and keep them fresh. They help... Read more
141219
0
Perhaps the perfect Xmas gift for the climber in your life... Wild Country's Crack School has two of the worlds best crack... Read more
141219
0
The release of Peter Jackson's new film The Hobbit: The Battle of the Five Armies on 12th December may not appear to link to... Read more
141212
0
Tonight's Friday Night Video features the Norwegian town of Rjukan, once believed to be the home of the world's tallest... Read more
141219
0
---