Click to view latest messages in all forums

Premier Post - FS; Sony Alpha 330, 18-55 + 70-300 + 200-500
by - TiredJazmyn
on - 01 Sep 2012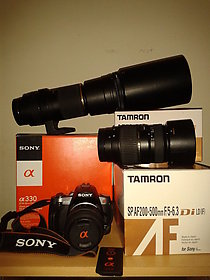 One week posting being made available to the UKC family before being advertised elsewhere.

For sale is a Sony Alpha 330 with lenses. Looking at £600 but will consider reasonable offers. Please note delivery is not included in this price but will be confirmed for agreement before shipment. Based in Plymouth and collection is welcome for those close by.

Included

Sony Alpha 330 Body
Sony 18-55mm lens
Tamron 70-300mm lens and hood
Tamron 200-500mm lens, hood and carry bag
Sony NP-FH50 battery and charger
Sony Application Software CD
USB cable
Original documentation
Original boxes
Remote trigger


Very good condition for all items, some scuff and non deep scratch marks on LCD screen as can be seen on http://www.flickr.com/photos/83843062@N03/7905799974/

Can upload more photo's of camera and lenses on request. A small selection of shots taken from this camera can also be seen via http://www.flickr.com/photos/83843062@N03/

by - wildeybeast
on - 03 Sep 2012
In reply to TiredJazmyn:

Hi, would you consider selling the 200-500mm separately or is all or nothing?
by - TiredJazmyn
on - 03 Sep 2012
In reply to wildeybeast:

Hey there, originally it was going to be sold as a whole set however I will consider selling the 200-500mm as an individual item. It has had about 30 days use in a year and a half, while not in use it has been stored in the carry bag in the box.

If you would like more photo's or to discuss the lens you can email me at iain.till(at)gmail.com

Iain

ps, I like the "Uncommon view of Corvara" shot on flickr.
---

[top of page] - [forums latest]