| | |
| --- | --- |
| | / Montane Terra XT Salopettes |
This topic has been archived, and won't accept reply postings.

I´m in a proces of buying a new pair of winter pants. Does anyone has anything to say about above mentioned pants ( waterproofnes, durability ). I will be using them for winter mountaineering , ice climbing ,ski touring.
In reply to
matejn: I couldn't get on with them: there's a seam on the liner right where my kneecap is. This hindered / prevented high steps and proved uncomfortable. Could be just specific to my leg length (34 inside leg).
This failed experiment saw me going back to a stretch soft shell for more agility*
*agility being a relative term, and one which I hesitate to apply it to a punter like me
I considered the XT salopettes last year... went instead with lightweight stretchy softshell for nicer weather, and paramo for nastier weather.

There seems to be very little information out there about the XT salopettes, so if you do get em let us know how they work out!
In reply to
matejn: One of the best bits of kit I've ever purchased.Really warm yet able to vent through the sides, really comfortable for my 31" leg size, used ice climbing in Rjukan this year with total flexibility. My only gripe is that the braces are a little long to adjust but I added an extra buckle which sorted this out. I've used them in rain and damp conditions with no problems but not been caught in anything too heavy yet.
Having looked at many different climbing/mountaineering salopettes these seemed to be an absolute bargain last year at £120 (I think).......they certainly were.
In reply to
smuffy: On paper they look just what I am after for. The only concern I have is their long term waterproofness. In my experience ones you wash off the DWR, ther is no way that you can restore it to the level when brand new. And this pants rely just on DWR ( sort of ) for being waterproof. I know it is supposed to be much more durable but who could tell.
In reply to
matejn:
The Terra trousers have short legs (don't know about the salopettes). I have a 34" leg and they are a couple of inches too short on me. They are supposed to do a long version, but nobody stocks them. Something to bear kin mind if you have long legs.
In reply to: terra XT pants have been around a while and use the same materials, search for thoughts on those to compare, also the Resolute smock uses the same face fabric (epic)

All i know is I had a Macpac jkt that used the EPIC fabric and it was tough, and the dwr was very very good,
In reply to
matejn: Don't know these salopettes, but EPIC fabric water resistance lasts very well, at least on polyester and nylon (not so cotton like Alpkit jeans)

I've used the Resolute Smock which I think was in Epic, it was very weather proof and reliable.

I do wonder how the Terra XT might compare to Keela Munro salopettes. I know the Montane isn't supposed to be fully waterproof, while the Keela is - but is considered heavier.


---
This topic has been archived, and won't accept reply postings.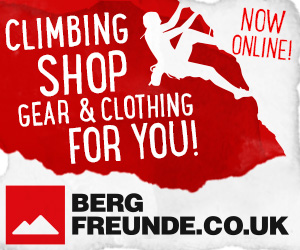 Elsewhere on the site
Tonight's Friday Night Video features the Norwegian town of Rjukan, once believed to be the home of the world's tallest... Read more
141219
0
Rock shoes stink – let's face it. Boot Bananas are the perfect way to fight the funk and keep them fresh. They help... Read more
141219
0
At a bar in Llanberis an old man chimed in And I thought he was out of his head Being a young man I just laughed it off When... Read more
141203
0
F ounded in 1993, Mountain Hardwear are a pretty young mountaineering clothing and equipment manufacturer but are also one of... Read more
141216
0
Perhaps the perfect Xmas gift for the climber in your life... Wild Country's Crack School has two of the worlds best crack... Read more
141219
0
---