| | |
| --- | --- |
| | / Local Knowledge on Wye/Cheddar/Avon |
This topic has been archived, and won't accept reply postings.
Considering the forecasted deludge overnight, can any of you local gurus shed some light on best destinations for a Saturday venue.
I'm guessing Cheddar may hold the damp/seep. How does Wyndcliff/Wintours dry out and which are best areas for getting any sun. We didn't get any sun at Ban y Gor until we were about to leave at the end of the day last week!
Is avon a better bet at all?
Cheers for any inside Beta,
Sue
In reply to
purple sue: Avon or win tours can dry very quickly. Win tours will remain damp in the horizontal breaks but you can often climb round this. Obviously under tree cover it'll stay moist for longer. Avon should be dry from early with the forecast sun apart from in old miners pockets. Sea walls will be best in the morning.
In reply to
purple sue: Wintours is a big crag with quite a few different areas. The far end of fly wall (near firefly) is very exposed to wind coming up the valley and gets lots of sun so will dry pretty quick. The bottom of GO wall is very sheltered and takes longer to dry, as does the bottom of north wall. The top of north wall dries quickly too. The pedastal area gets all the sun going and is quite sheltered so the top of surrealist is usually dry if its sunny (as are the other routes of the pedestal).
I dont go to banygor a lot but its kinda north facing and might be slimy but not sure.
The bottom half if wyndcliff main crag is tree covered and holds the damp, the sport crag is more open but a bit crap.
HTH
Cheers
Dave
In reply to
purple sue:
Wintours doesn't get the sun early, have been there in similar conditions in October after a very wet night and it was seeping until about midday. Not much wind forecast for tomorrow so I don't think it will dry out 'til it gets some heat.
Was looking in the guide earlier and suggests Wyndcliff dries faster, and should get the morning sun.
I often used to climb at Wyndcliff in the rain. There are trees over the top of the crag that keeps it dry in light rain.

However, if it's not raining (and it has been heavily) I'd go to the North Wall and hope the exposed bit are drying in the wind.
In reply to
Max factor: After the months of deluge this summer ive turned down climbing at wudncliff a few times. Its snappy at the best of times (firebird / the don / etc ) and the rain makes this much worse and we've had a lot of it this summer.
Cheers
dave

In reply to: Helpful people
Really useful. Thanks guys.
---
This topic has been archived, and won't accept reply postings.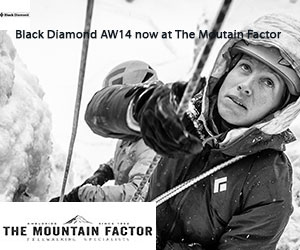 Elsewhere on the site
Tonight's Friday Night Video features the Norwegian town of Rjukan, once believed to be the home of the world's tallest... Read more
141219
0
F ounded in 1993, Mountain Hardwear are a pretty young mountaineering clothing and equipment manufacturer but are also one of... Read more
141216
0
With four photos in this week's top ten, and a UKC gallery of stunning images we thought it was time we had a chat with... Read more
141203
0
Rock shoes stink – let's face it. Boot Bananas are the perfect way to fight the funk and keep them fresh. They help... Read more
141219
0
Perhaps the perfect Xmas gift for the climber in your life... Wild Country's Crack School has two of the worlds best crack... Read more
141219
0
---