| | |
| --- | --- |
| | / Wadi Rum and +35C - can you climb? |
This topic has been archived, and won't accept reply postings.
We've got flights to Wadi Rum on Friday. The temps seem to be 32-36 day and 23 night. Anyone been there if its like this? Is it possible to climb anything?
In reply to
adnix:
Look for routes in the shade (there are plenty) and start out early. Or do easier routes than you would otherwise.
Have a good time, it's a fantastic place.
In reply to
adnix: I was there a couple of weeks ago. Didn't do any climbing (unfortunately) but did a reasonable amount of walking and as long as you stay in the shade in the afternoon you should be fine. If possible start early and then allow time for a nap in the shade after lunch.
In reply to
adnix:
What Solaris said.
By picking venues out of direct sun and starting early or late to maximise shade, it was certainly possible to climb routes during the summer along the UAE / Oman border during the summer months with daytime highs well over 40C -- although being 'residents' at the time meant we were pretty well acclimatised / certifiable by that stage.
In reply to
Lord of Starkness:
Thanks for the info! In June I was climbing in Arco at +35C and it was beyond what I would call comfortable. I quess it's full on desert conditions...

In reply to
adnix:
I never said 35c+ was comfortable -- you've just got to be daft enough.
PS I'd always freeze a 1.5 litre water bottle of isotonic the night before, carry in and insulated bottle carrier and sip from it whilst on the route as it starts to defrost. My mate and I could generally get up and down a 3 pitch route on a bottle each.
We'd set off up the hill with 3 bottles -- consume one on the way to the foot of the climb, and leave one in the sacks for when we got down. Dehydration in those sorts of temperatures is not to be recommended.
---
This topic has been archived, and won't accept reply postings.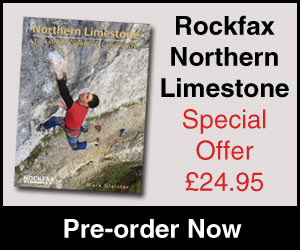 Elsewhere on the site
Perhaps the perfect Xmas gift for the climber in your life... Wild Country's Crack School has two of the worlds best crack... Read more
141219
0
The release of Peter Jackson's new film The Hobbit: The Battle of the Five Armies on 12th December may not appear to link to... Read more
141212
0
F ounded in 1993, Mountain Hardwear are a pretty young mountaineering clothing and equipment manufacturer but are also one of... Read more
141216
0
Tonight's Friday Night Video features the Norwegian town of Rjukan, once believed to be the home of the world's tallest... Read more
141219
0
Rock shoes stink – let's face it. Boot Bananas are the perfect way to fight the funk and keep them fresh. They help... Read more
141219
0
---