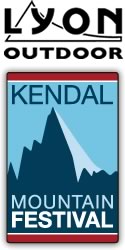 Lyon and Petzl are delighted to announce the first part of our involvement at this years Kendal Mountain Festival.
In association with
The Lakeland Climbing Centre
and Lyon/Petzl team members
Andy Cave & Kev Shields
we're presenting a morning workshop on unlocking your true climbing potential, the workshop is aimed at those finding their climbing progression is being hampered by mental blocks.
Attendees to the full workshop will receive a Petzl Goodie Bag worth at least £20.
WHEN
- Saturday 17th November 09.00 to 11.30
WHERE
- At the Lakeland Climbing Centre
WHAT
- Unlocking your true potential, with Andy Cave & Kev Shields.
This is a 2 ½ hour session for lead climbers who are capable climbers, yet when moving from bouldering to lead-climbing indoors, or from indoor leading to climbing outside, drop their grades.
Activities will commence at 9.00 promptly with a presentation on preparing, understanding and managing fear for the chosen climb. For Premier ticket holders this is followed by practical application and discussion of the topics.
Further info and booking can be found at:
http://www.lyon.co.uk/outdoor/latest-news-and-events/107-unlocking-your-true-potential
http://www.kendalwall.co.uk/news-a-events/item/unlocking-your-true-potential