| | |
| --- | --- |
| | / Taghia, Morocco |
This topic has been archived, and won't accept reply postings.
hi all

my girlfriend & i are thinking about heading to Taghia next july/august
...finding climbing info is quite difficult (guidebooks/route info/grades)
& we were hoping someone might be able to help locate websites, etc

one key question is the range of grades - is there much quality stuff 6a (sport) and below?

many thanks
tim
In reply to
timmyh: There is a relatively new French guidebook. There is no quality stuff below 6b. July/August will be extremely hot.Best time would be either early spring or late autumn. Most of the routes are long multi pitch or big walls but it is a brilliant place to climb. Feel free to contact us.
Tony & Sarah
In reply to
timmyh:
July/August maybe quite hot. Having said that, we were there in June a few years back and had one hot week and a second one when it snowed just above the village...
As far as I know the official guidebook is still the one by Christian Ravier:
http://www.christian-ravier.com/Sites/taghia_topo.html
There are new routes since the appearance of this topo. You can find quite a lot of topos on the net - probably mainly French.
There are certainly fewer easier bolted routes than harder ones. We were aiming at 6c > 7a routes and I thought that given a couple more grades we'd have had a lot more to go at. (In the event, we both got quite ill after doing three routes and were too wiped out to climb anything that hard afterwards). I think the only route we did at 6a was Rêve d'Aïsha which was great. I'm sure there are other routes in that sort of grade but I don't have my guidebook here with me. I'd think that there's probably quite a lot of trad routes at that sort of difficulty.
It's probably useless to warn you to take care with what you eat/drink there as you really don't have much choice. We both ended up very ill for about four days. Some friends who have been there quite a few times and who have put up a lot of new routes, so experienced in these things, went the following year and one by one they too fell ill!
In reply to
timmyh:
I was there in May/June this year... I think the advice so far has been pretty spot on, but here's my tuppence worth anyway:
- I found it unpleasantly hot to climb in the sun, even in May. We did have a cold snap when it became a lot better for a week or so. Some of the time we were there we were restricted to scurrying as swiftly as we could up north(ish) facing faces. If I went again I'd go for late April/ early May
- There's really very little below 6a sport I think. Reve d'Aicha as mentioned by Jon is one of the few at that grade. If you weren't averse to pulling on bolts this might open up a few more options as the bolting isn't particularly spaced (but don't quote me on this). I don't even think that there is much easy trad there (the "mountaineering route" up one of the gulleys on the North face of Oujdad gets about grade 5 (HVS ish?) I think, but some Spanish chap who did it when we were there said it was tosh).
- The Ravier guide is still the one to get. His website has some topos on it (in French).
- Having said all that, it is a wonderful place with stunning scenery and friendly locals. (We stayed at Said's gite which is nice and comfy and we didn't get ill for a month.) So even if you only have a few routes to go at you'd like it there, I'm sure. It's just a question of whether it's worth the effort to get all the way there or instead head somewhere else (I presume Todra has plenty; or the area around Tafraoute has some decent looking trad (I've not climbed there but hiked around it and it looked nice)).
Good luck
Adam

In reply to
timmyh:
thanks to everyone that's replied - really appreciate you sharing your info
... i'm going anyway as i'm taking a school group up Toubkal, but it sounds like Taghia will be
(a) too hot at that time of year &
(b) too hard!
... so i'll head home & enjoy Wales & save Taghia for next time!
thanks loads!
---
This topic has been archived, and won't accept reply postings.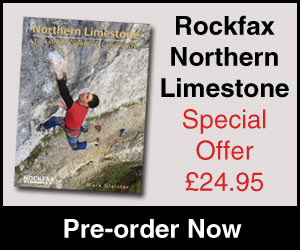 Elsewhere on the site
PowerFingers is a simple, easy to use product which is incredibly effective for Climbers who require finger strength and... Read more
141222
0
F ounded in 1993, Mountain Hardwear are a pretty young mountaineering clothing and equipment manufacturer but are also one of... Read more
141216
0
Perhaps the perfect Xmas gift for the climber in your life... Wild Country's Crack School has two of the worlds best crack... Read more
141219
0
With four photos in this week's top ten, and a UKC gallery of stunning images we thought it was time we had a chat with... Read more
141203
0
Will Sim and Andy Inglis have made the second ascent of VIII,9 on Ben Nevis, followed by Will making a rare... Read more
141222
0