Premier Post - FS - Skis, Norrona, ME sleeping bag and more!
by - moonman10
on - 15 Nov 2012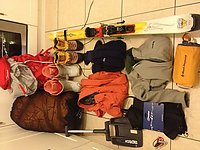 I am finally getting around to selling off some gear that I just don't make use of anymore!

All prices include postage and I would like all payment to be via bank transfer.

Rossignal B3 Bandits 160 cm with Diami Fritschi Freeride bindings, axion crampon and custom cut BD skins.
Cracking touring set-up and handle all snow conditions very well. They are a couple of seasons old but have been well looked after and skied occasionally (I have other skis for piste) for touring. If you want more pictures just ask!
£350

Mountain Equipment Snow line LH zip.
www.mountain-equipment.co.uk/the_gear/down_sleeping_bags/extreme/snowline_-17%C2%B0c---445/
It has bee used for 2 nights in a campervan so as good as new.
RRP on ME site is £450!
£285

Norrona Lofoton Pro Shell Jacket - L.
www.norrona.com/Products/5002-11/1225/lofoten-gore-tex-pro-jacket-m.
This jacket has been used skiing for one month the year before last and is about 3 season old. There is a bit of wear on the gore tex below the left pocket. I can send pictures. This does not affected the performance of the jacket. RRP on this jacket is nuts!
£165

Berghaus Talus 45. Used once.
store.berghaus.com/p/alpine-climbing-mountaineering/talus-45-mountaineering-pack/434287
RRP is £120
£70

Berghaus S/M GTX gaiter. Brand New with tags!
£20

Scarpa Cumbre UK7. I have had these boots for 3 seasons. They have only been used in snowy conditions do the sole is in great condition. There is a bit of wear on the rand on the right boot.
£80

2 x patagonia fleeces. One is a soft shell (light gray one) and the other is a fleece (blue one). In good nick.
£30 each

Mammut Raptor Snow shovel
£28

Burton SL-9 Snow board boots - http://www.snowboardclub.co.uk/index.php?name=PNphpBB2&file=viewtopic&p=691992#691992
£95

Wild Country VC belay device with Clog screwgate
£12

For more pictures or information drop me an email - paul_swail@hotmail.com






by - davegs
on - 15 Nov 2012
In reply to moonman10:

yhm ref snow shovel
by - moonman10
on - 17 Nov 2012
In reply to moonman10:

The patagonia fleeces are both sized Medium!

Cheers
by - moonman10
on - 19 Nov 2012
In reply to moonman10:

Hi All,

Price drop on the following:

Skis - £295

Norrona Jacket - £145

Mountain Equipment Sleeping Bag - £220

Cumbre Boots - £55

Berghaus Rucsack - £55

I am open to reasonable offers!


by - moonman10
on - 20 Nov 2012
In reply to moonman10:

Jacket and Sleeping Bag now sold!
by - RocKalina
on - 26 Nov 2012
In reply to moonman10: Are the skis still available?
by - moonman10
on - 27 Nov 2012
In reply to RocKalina:

Skis, Gaiters and Rucksack are all sold.

Open to offers on anything else!

Paul
by - moonman10
on - 29 Nov 2012
In reply to moonman10:

Rucksack still for sale, a UKC user let me down. - £55