| | |
| --- | --- |
| | / Sport Climbing South America |
This topic has been archived, and won't accept reply postings.
I am looking for information on sport climbing in central and southern Chile and Argentina.

My wife and I have six weeks from early Jan to Feb for our honeymoon. I see that the area around Cordoba seems to have a lot of routes but I cant seem to find a guide book that would cover it.

We are flying into El Calafate via Buenos Aries, looking to do the Paine circuit and then maybe travel up the route 40, to Bariloche. I know that Frey requires trad gear but we have a weigh limit so may not be able to take a rack.

After Barlilcohe we will probably have about 2 weeks left so if anyone has any information on sport climbing or guide books I would be very grateful for beta.

Thanks in advance

Dave

In reply to
dctarrant2000: We spent a week climbing in La Buitrera a few years ago which was fantastic. Crazy great volcanic climbing. It's pretty remote but easy to get to on the weekly bus from Esquel and camp at the mouth of the canyon. Also lots of sports climbing around Bariloche (El Encantado) without heading up to Frey. Best website is stonedance.com tonnes of ideas. Haydn.
In reply to
dctarrant2000: Forgot to mention the sports climbing around El Chalten is also good. Can easily combine with day walks up to Fitzroy and Cerro Torre.
In reply to
dctarrant2000:
There is a sport guidebook for the Bariloche area - available in the town. I have a copy, but I think it's currently in NZ where I am not... Also covers some areas just south of Bariloche (El Bolson and nearby). Lots of sport.
Might be worth checking out Piedra Parada, where the petzl Roctrip is currently. Some trad but also lots of sport.
There are a few fully bolted lines up at Frey and the area is definitely worth going to even if you don't have your rack - plenty of people just hike around there.
Some climbing in the area just south of Santiago - I can search out the names for you when I have more time.
Maria
Brilliant thanks everyone for your help. I will definitely check out most of the places you mentioned.

Maria was the climbing to the south of Santiago in Cajón del Maipo? if so then I think I have been there and it was pretty nice but I dont think we will be traveling too far north on this trip.

Good to know there are guide books in Bariloche, and that there are some fully bolted line up at frey which looks amazing.

thanks again and if anyone else has any information I would greatly appreciate it.

Dave


In reply to
dctarrant2000: Hi Dave
Just got back from the Petzl Roctrip, and can recommend Piedra Parada- its fairly remote so you will probably need to pack in food to the campsite, but loads to do once you are there. Easy enought to get to from Esquel via bus/hitching. Petzl produced a guidebook for the roctrip, I'm not sure where you can pick it up locally but I'm sure Petzl will know if you email them.
Cheers Karl
---
This topic has been archived, and won't accept reply postings.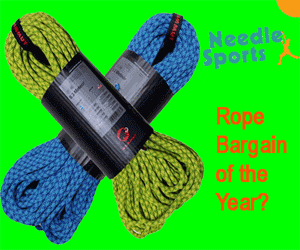 Elsewhere on the site
Perhaps the perfect Xmas gift for the climber in your life... Wild Country's Crack School has two of the worlds best crack... Read more
141219
0
With four photos in this week's top ten, and a UKC gallery of stunning images we thought it was time we had a chat with... Read more
141203
0
Rock shoes stink – let's face it. Boot Bananas are the perfect way to fight the funk and keep them fresh. They help... Read more
141219
0
F ounded in 1993, Mountain Hardwear are a pretty young mountaineering clothing and equipment manufacturer but are also one of... Read more
141216
0
Tonight's Friday Night Video features the Norwegian town of Rjukan, once believed to be the home of the world's tallest... Read more
141219
0