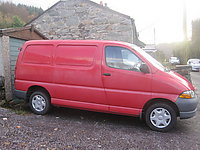 Here we have a lovingly converted Red Toyota Hiace camper van.
2.4 Diesel Powervan GS, Short Wheel Base.
131,401 Miles
MOT until 19/08/2013
Fittings:
The front half of the bed slides back under itself, taking up the back-half of the van when it's packed away. The gap beneath was designed to take standard plastic storage boxes and is plenty big enough for rucksacks (about 350mm I think).
The bed is 6'9" long, and 5'3" wide.
There are 3 cupboards - one of them houses the gas canister, another is useful for general storage, and the final one houses the crockery.
The cooker has 2 hobs and a grill beneath.
The van has been very reliable and starts perfectly every time.
Viewings and test drives welcome, we live in Bethesda. More photos here:
http://www.ebay.co.uk/itm/110983293805?ssPageName=STRK:MESELX:IT&_trksid=p3984.m1555.l2649
Cash on collection please.