Click to view latest messages in all forums

This topic has been archived, and won't accept reply postings.
Premier Post - Dreaming of sea cliff adventures?
by - BMC Office
on - 07 Dec 2012 - www.thebmc.co.uk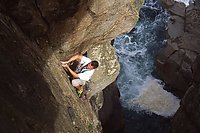 Do you have experience of climbing in West Cornwall? If so the BMC International Sea Cliff Climbing Meet 2013 could be right up your street!

The Meet will be located at The Count House (Climbers' Club hut) which is perched on top of the fine granite cliff of Bosigran. Taking place from Sunday 12th to Sunday 19th May 2013 this event is set to showcase some of the finest traditional climbing in the UK as well as fostering international relationships.

We are expecting around 35 international guests from about 20 different countries. We are looking for a similar number of host climbers with experience of climbing in the West Penwith area to take our guests climbing.

To be considered as a host climber please complete the online host application form (see link below) by 15th February 2013.

Host information sheet http://www.thebmc.co.uk/Handlers/DownloadHandler.ashx?id=1027

Online host application form http://webforms.thebmc.co.uk/events/bmc-international-meets/host-application-form-bmc-international-...

---
This topic has been archived, and won't accept reply postings.

[top of page] - [forums latest]