| | |
| --- | --- |
| | / Ice climbing in Colorado |
This topic has been archived, and won't accept reply postings.
Hi all,

I'm planning to be in Denver in February and I'd like to do a few days of ice climbing. I've done some stuff in Scotland before but I would like to build my experience.

Could you recommend any climbing schools in Denver or further out that run good ice climbing courses?

Cheers,
Jakub
In reply to
jacoob81:
I've stayed in Ouray for the ice climbing, not sure about classes, but its very accessable stuff,most can be top roped if you want (we appeard to be the only ones leading and only a few minutes from the nearest b+b type hotel (we stayed at the Victoria Inn - 10 mins from the ice). However - its a long drive from Denver.
Vail may be a bit closer but full of stockbrokers on skis doing deals on their mobiles.
In reply to
jacoob81: I've climbed at Buoulder, Telluiride, Vail and Ouray - Ouray would easily be best place for what you're after. It's a great place.
In reply to
mick taylor: Telluiride is the best for ski / snowboard though!
This was posted on:
http://www.facebook.com/groups/WinterClimbsinSouthWales/
.. this morning ...
"I'm told by Nat who passes RC Corner every day on his way to work. No Ice to speak of as yet. To much sun during the day time.
Has anyone had a look at Craig y Llyn yet, that will be the first place to come into nic? Anyone able to drive over that way on the way to work this wk, please check it out from the car and let us know. I have a day off on Friday and will be keen to check it out if anyone's off wk. I have to be back in Cardiff by 2ish so only a quick look."
In reply to
jacoob81: Not sure what your level of experience and comfort when climbing with total strangers are, but it might be worth posting on mountainproject.com They have a partners section that is pretty active for Colorado. Could also ask about the schools there if you want to go down that route.

... sorry I've just realised I've posted in utterly the wrong thread!
---
This topic has been archived, and won't accept reply postings.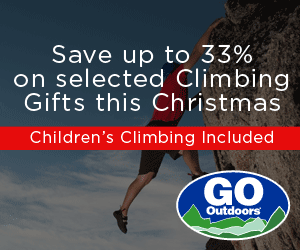 Elsewhere on the site
This Winter Conditions page gives a summary of what is being climbed at the moment, what is 'in' nick and what the prospects are... Read more
Perhaps the perfect Xmas gift for the climber in your life... Wild Country's Crack School has two of the worlds best crack... Read more
141219
0
Tonight's Friday Night Video features the Norwegian town of Rjukan, once believed to be the home of the world's tallest... Read more
141219
0
F ounded in 1993, Mountain Hardwear are a pretty young mountaineering clothing and equipment manufacturer but are also one of... Read more
141216
0
Rock shoes stink – let's face it. Boot Bananas are the perfect way to fight the funk and keep them fresh. They help... Read more
141219
0
At a bar in Llanberis an old man chimed in And I thought he was out of his head Being a young man I just laughed it off When... Read more
141203
0
---