| | |
| --- | --- |
| | / belay jacket colour neurosis |
This topic has been archived, and won't accept reply postings.
I can only seem to get a discount on a Fitroy in Black....
Q:
Is black OK or should i pay extra for a brighter colour (blue or Red)?

(will be used in the Alps and some solo stuff)

Thoughts?
In reply to
Sariel:
I had this dilemma when buying a wetsuit! Another 70 Euros to get it in red, so tempting and you don't even get that many photos taken underwater and at any depth, all colours fade to blackish anyway..so I went for the black one in the end :-)
I'm always willing to pay a small premium to not look like a cold and bedraggled ninja. How big is the discount you're looking at?
In reply to
Sariel: The gendarmes will not let Brits on the hill unless clad in black
In reply to
Sariel:
Depends completely on your personal vanity and piss-taking threshold. I get ribbed for wearing khaki, brown and bin-bag black but being a grotty colour is often why stuff is on discount in the first place! For a little more I'd go for what's pretty - but for any more than that, I'd rather spend money on something else.
The fact you are asking suggests it's gonna bother you, and you're after justification! So, if you can afford it get what makes you happy (and tell yourself you will be easier to find if fall off something) but if you are going to forever feel guilty for being vain then get the black. simples.
Disclaimer: I am from Yorkshire.
I will also pay extra for a bit of colour these days.
In reply to
Sariel:
Black is usually my first choice tbh as I can wear it for day to day as well, though I'll buy the colour that's cheapest unless there's not much in it.
If you're worried about visibility, I always carry a bothy shelter for those dayglo moments
The black would be the easy and cheaper choice; much easier to find and i would probably wear it in non climbing situations as well.
However I have a general clothing rule for upper body, head garments and that's if it's for serious use then go bright / go home,

As for vanity, the coolest jacket on earth couldn't make me look cool.

I know I'm answering my own questions here,

It's about 20 quid more for either royal blue or red........
---
This topic has been archived, and won't accept reply postings.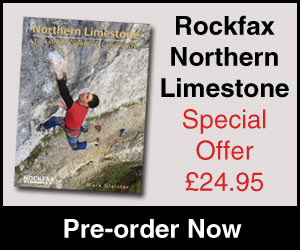 Elsewhere on the site
Perhaps the perfect Xmas gift for the climber in your life... Wild Country's Crack School has two of the worlds best crack... Read more
141219
0
The release of Peter Jackson's new film The Hobbit: The Battle of the Five Armies on 12th December may not appear to link to... Read more
141212
0
Tonight's Friday Night Video features the Norwegian town of Rjukan, once believed to be the home of the world's tallest... Read more
141219
0
F ounded in 1993, Mountain Hardwear are a pretty young mountaineering clothing and equipment manufacturer but are also one of... Read more
141216
0
Rock shoes stink – let's face it. Boot Bananas are the perfect way to fight the funk and keep them fresh. They help... Read more
141219
0
---