| | |
| --- | --- |
| | / NEW REVIEW: Therm-a-rest NeoAir XTherm Camping Mat |
This topic has been archived, and won't accept reply postings.
UKC competition winner Jonathan Fuller reviews his prize: the NeoAir XTherm from Therm-a-Rest. More information about the mat is available on the Cascade Designs website
here
.
Read more at http://www.ukclimbing.com/gear/review.php?id=5064
In reply to
UKC Gear: I bought one of these in august, slept on it about 10 times in the lakes. It is a fantastic bit of kit, warm enough to allow me to carry my 3 season bag into December, really comfy (I've never been able to sleep on my side on a mat before) and lighter than my old full length thin thermarest (cant quite remember the model).
My only grumble is it is quite narrow (or I'm quite wide!) so if its too warm to be inside you bag your elbows are on the floor, and as it's 5 cm thick its fells a bit odd. However, it's not been particularly warm this year, so not often a problem!
I strongly recommend shelling out the extra cash on one of these.
In reply to
UKC Gear:
Great to see these being reviewed finally. Good stuff.
If thats your piss bottle in the photo you need to drink more.
In reply to
UKC Gear: Aye, a great bit of kit, especially if you sleep on your side, but the only other thing I'd add is that if you are tall then you will either have your feet off the end or to find an enormous pile of kit to make up the head end to a decent height!
In reply to
UKC Gear:
"The mat is, however, rather noisy compared to a foam one, sounding like a large crisp packet..."
Too right, I nearly murdered a friend who used one of these because of this. If you move about in your sleep then don't buy one unless your friends are more tolerant than me (possibly not hard) or completely deaf.
Got used to the noisy aspect pretty fast, I move around a lot and it hasn't irritated any tent partners yet.

Using the stuff sack to inflate it is indeed a waste of time. I bring a big garbage bag when feeling lazy and fit the valve to that.

Much nicer to roll up than a self inflating mat too.

In reply to
UKC Gear:
One of the welded baffles that go across the mat split on a friends. Ended up with a big lump in the middle. Have there been improvments to the design in the last couple of years?
---
This topic has been archived, and won't accept reply postings.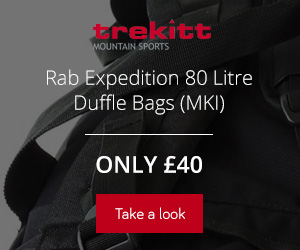 Elsewhere on the site
Tonight's Friday Night Video features the Norwegian town of Rjukan, once believed to be the home of the world's tallest... Read more
141219
0
Perhaps the perfect Xmas gift for the climber in your life... Wild Country's Crack School has two of the worlds best crack... Read more
141219
0
Rock shoes stink – let's face it. Boot Bananas are the perfect way to fight the funk and keep them fresh. They help... Read more
141219
0
At a bar in Llanberis an old man chimed in And I thought he was out of his head Being a young man I just laughed it off When... Read more
141203
0
F ounded in 1993, Mountain Hardwear are a pretty young mountaineering clothing and equipment manufacturer but are also one of... Read more
141216
0
---