| | |
| --- | --- |
| | / Realistic lowest temps in Andes in June? and boots? |
This topic has been archived, and won't accept reply postings.
Somehow I seem to be heading for Peru in June. Up to about 6100m. I've been trying to find info on realistic temps, but answers vary from -10 to -25 and below. Big difference when I feel the cold when not moving. I also assume that daytime temps at lower altitudes may be pretty warm. Anyone care to confirm or deny this?

Secondly, boots. I currently have a rather old pair of Salomon SM Lites which have served me well up to over 4000m paired with sabretooth crampons. Is there any chance I'll get away with them this year? If not, any recommendations for boots that are likely to be warm enough but also precise enough for quite a lot of scrambling and are available in women sizes?

Cheers!
In reply to
Caralynh: No idea about the temps but scarpa phantoms could be a good bet for the boot if they fit obviously. The guide if your feet run quite hot and you don't mind risking it or the 6000. Goes down to size 37
In reply to
Caralynh: was out there this summer. Only got up to 4500m and the snowline was somewhere about 6000m on the other side of the valley. Where we were it was around 3 degrees at its coldest on the high passes (daytime) with some snow showers and pretty cold windchill. But only a few hundred metres lower in shelter and intermittent sun, we were walking in light fleeces and softshells. As the sun dropped so did the temps and the coldest night was minus 6 with harsh winds (camping at 4300m). Across the valley we were looking towards Mt Veronica which had had loads of snow and we were watching and hearing avalanches go off! In the valley it was t-shirt or light long sleeve weather with a slight breeze most of the time.
Hope this helps a bit but I guess conditions differ a lot across the country.
Co:
Thanks both, that gives me something to start with anyway. 😊
In reply to
Caralynh:
I climbed Ausangate (6380m) with my girlfriend last year. At around 5600m at, say, 3am, it was about -15C. We were climbing in insulated jackets until sunrise. It warms up considerably during the day but often the wind is cold around 5000m. Being relatively close to the equator the nights are long etc so you need to take that into account too.
Boots - depends if you will be camping high, or just going high and camping lower. If the former then doubles are the safe choice, if the latter then many get away with good insulated single leathers. If you only camp around 5000m, climb quickly to 6100m mostly in the daylight, no standing around, and tend not to get cold feet, then your Salomons should be OK.
Also depends if you've got mules/porters into camp, or backpacking all yourself. If the former then you can walk in trekking shoes with your boots carried. If the latter then you want mountain boots you can also walk-in in.
In reply to
Caralynh:
I climbed a 5500m mountain in Peru in 2011. We climbed our route, from a high camp in a round trip. I wore Spantiks, whilst my partner wore Phantom Lites (the old version of Phantom guides).
Although we both had slightly cold feet, on occasion, during our climb, we were both fine in our choice of boots. I thought the Spantiks were a bit OTT and would probably wear something a little less bulky if going again.
Although I probably would have been fine, I wouldn't risk using conventional leather boots like Nepal Extremes or your SM Lites.
In the area we climbed we thought the temperatures were a fair bit colder than the Alps in summer, but the glaciers were much, much smaller than those in the Alps.
Rock and Run are selling Scarpa Omegas for £99 atm. I used to have a pair of these boots and found them excellent. I would be happy wearing them on the route I did in Peru, with a good gaiter like a Outdoor Research Crocodile.
We found day time temps to be pretty warm (thermal top and a pertex windproof) and generally dry underfoot. I would recommend taking a pair of light trail running/fell shoes for wearing below the snow line.
Drop me a PM if you want any more info and I'll do what I can to help.
HTH

In reply to
Captain Gear:
Thanks Damo and Captain, that's very very useful. Will have a think and a try in shops when I get time next month, and will get back to you if I need to.
C x
---
This topic has been archived, and won't accept reply postings.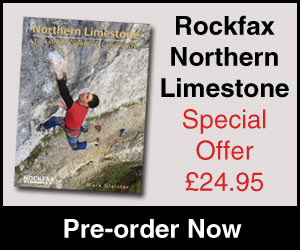 Elsewhere on the site
At a bar in Llanberis an old man chimed in And I thought he was out of his head Being a young man I just laughed it off When... Read more
141203
0
Rock shoes stink – let's face it. Boot Bananas are the perfect way to fight the funk and keep them fresh. They help... Read more
141219
0
F ounded in 1993, Mountain Hardwear are a pretty young mountaineering clothing and equipment manufacturer but are also one of... Read more
141216
0
Tonight's Friday Night Video features the Norwegian town of Rjukan, once believed to be the home of the world's tallest... Read more
141219
0
Perhaps the perfect Xmas gift for the climber in your life... Wild Country's Crack School has two of the worlds best crack... Read more
141219
0
---