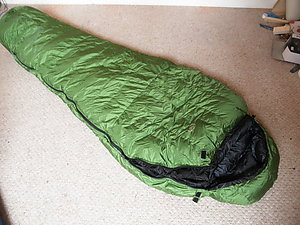 Hiya,
I'm selling my
Expedition sleeping bag
, as it has
never been used
. Its been kept in its large bag and i have never even spent a night in it.
It's one of the best sleeping bags from PHD. It has a full side zip, is filled with 700 quality down and weighs approximately 1.8Kg.
More details can be found on the PHD website here:
http://www.phdesigns.co.uk/sleepingbags.php?cat=61
Note the Baltoro 1000 isn't listed but i have had the product code confirmed by PHD
Typical operating temperature
-31°C
this will keep you warm anywhere.
It also has a drishell outer to help keep the down dry.
I can obviously provide pictures on request. This a brand new bag that has never been used. You can also come and have a look if you want to, I realise its quite expensive but staying warm isn't something to be taken lightly.
Price is
£350 incl uk P&P
Thanks
Dave