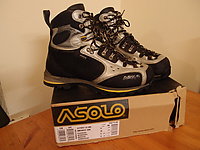 Asolo Alpinist GV MM - Size 10 (44.5)
Men's B2 GoreTex Mountaineering Boots
£125.00
The boots are just two years old and are in great condition.
They have been used a bit, but not a great deal and so are in an almost-like-new condition.
They are a B2 style boot with a stiffened sole and rear welt to take New-Matic style crampons.
(Front basket/rear bale. My G12's fit great)
These boots are light and I've used them on a variety of terrains and it's a shame to get rid of them but they are too small for me. I'll replace them like for like if possible as they'll be a great for scrambling.
Noticeable wear: a bit of scuff on the logo on the outer edge. The laces and insoles are original and show only small signs of wear.
Upper 2.2-2.4mm water-resistant Perwanger leather and textile; Gore-Tex waterproof lining
Sole Asolo/Vibram Ascent
Crampon compatibility B2
Weight 2kg
They are in the BangorBethesda area of North Wales and you are welcome to come and try them on if you want. Drop me a message to get in touch.
Cold snap is on it's way!! come and grab a great winter climbing boot!