| | |
| --- | --- |
| | / FS: Complete Garage Climbing Wall! london. |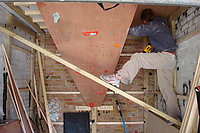 Hello.
I am selling my much loved garage climbing wall. I am moving abroad and need the space and money.
It has been great over winters and will be sorely missed. Although i have to say i think took more pleasure in building it than actually putting in the training hours!
The garage itself is standard size(?) 8'4" wide, 9'6" high, and 15' long.
The Climbing wall covers most of it:
The entire back wall is boarded and boards come out by 8'4" on all sides including the roof creating a box cave.
The left hand side extends out to 12'4" at a height of 4'6".
The right hand side wall is overhung at 10 degrees. There is a slope at the top of one board (4' wide).
In the middle of the back wall starts a triangular feature which extends from a point 3'6" up the wall to a wide 4' side 6'4" out onto the ceiling. Either side is boarded to create further faces. One side also includes a door to make use of inner storage space in feature.
On the left hand side of the back wall is a campus board section. Overhung by roughly 15 degrees, built out from wall so there is room for leg swing, creating a small roof at 4'. There is also as with feature space behind as storage space accessible through feature.
Above the garage door there is a training wall. approx. 6'6" x 3'.
In total there is roughly 250-300 square feet of climbable surface.
Boards.
The climbing wall is made from wood. 18mm Ply, the accepted/recognised thickness to deal with the force of climbing and point pressure. The timber used, is 4"x2" for main structure and 2"x2" for support. Some is treated timber to stop rot. All timber used is included.
All faces/boards are cut from 8'x4' sheets to fit in garage and creat features.
All boards are undercoated and painted with grip paint (except campus board and training (hang) wall. Grip paint is a mix of builders sand and paint. there is half a pot (1L?) left and half a bag of sand which will be included.
All boards have pre-fitted wall nuts to fit climbing hold bolts, at an avg. of 30-40 bolt holes per sheet.
There are five 'bottom' boards (4'x1' ea.) with no bolt holes to make up height of garage at the base of the wall. Used for screw-on footholds.
The training hang board, has some bolt holes. 2 finger boards (gecko grooves and homemade mono/duo/sloper). 2 pull-up hang balls for wrist/grip strength. And various homemade hanging options crimps/pinches/jugs.
There are photos of all wall features and timber/boards available.
Holds
All holds are used. That said there is no wear or degradation (save for some chipped footholds), as i mentioned above i was more into the building then the training. Most were just subjected to the usual 'out of the box' enthusiasm.
Many hold sets in various styles to create any problem or specific training:
Holdz Pocketz Set 3 (green) x10
Holdz Pocketz Set 4 (Black) x10
Holdz Mini Jugz Set 1 (yellow) x10
Holdz Jugs x-large (purple) x 9
(holdz.co.uk)
Metolius Super 7 Set (beige/brown) x7
(metoliusclimbing.com)
(Slap holds?) Swirl Pinches Set (blue) x9
(Slap holds?) small Pockets inc. monos (Orange) x6
Entre-prises Honeycomb XXL volume (blue) x1
(ep-uk.com)
(custom holds) XL afro head hold (light blue) x1
Custom holds Garage Set (multi) x68
Custom Holds Giant Jug (red) x2
(customholds.com)
Slap Holds Screw-on set (purple) x10
(slapholds.com)
Edges (limestone style) crimp screw-ons (pink) x26
Custom holds random screw-ons/ footholds (multi) x 36
Homemade wooden screw-ons, (rails, footholds, pinches, crimps) x 16
Campus rungs (large) x6
Campus rungs (medium) x4
Clmbing 10mm Bolts (various lengths, sizes to fit all holds plus spare) 250+
Climbing wall nuts (fitted plus spare) 250+
Bolt tool (custom holds)
Metolius hold brush.
Summary/ deal/ contact/ e-mail...
So there it is. This really is the complete set up for winter training if you have similar garage or can adapt boards and timber to fit different space. I am happy to answer any of your questions or queries on the wall/directions/building methods etc...
I recommend a van as its all fairly heavy and 8'x4' sheets and 9' timber. or at least a trailer. Also, a drill and allan keys, as the wall is in the process of being dismantled (hence some of the photos) and depending on when you collect it might not be fully off as i am doing it alone.
I am based in South East London.
I have a load of photos of all bits of wall and holds/bolts/construction but i cant post them with this ad. but am happy to e-mail anyone (IT WILL COME IN MULTIPLE E-MAILS). My e-mail is: capashancowboy@hotmail.com or if you prefer the old methods 07773248332 for a description.
I am looking for £900 for the lot. I have spent over £2000 on it and as its all in good nick and useable I think thats a fair estimate.
cheers and grab a bargain
Jake
---