| | |
| --- | --- |
| | / Swanage and Portland warning |
This topic has been archived, and won't accept reply postings.
Yet more good news. I've never seen the place seep so much in 25+ yrs of climbing here. There have been many posts about landslides and rock fall around Dorset over this very wet winter.
So here's another, if you are at Winspit and stand below pump me tenderly and look up you will see some overhang rock at the top, there is very little stopping this come down so don't sit underneath.
also was on Portland yesterday and saw the massive amount of movement below the cliffs north of blacknor (see path closer post) there has also been a mud and rock slide down the way in to the cliff top quarry at blacknor south, and looks like the ledge below the pugwash wall has been cover with mud.
take care out there!
In reply to
Marti999:
Thanks, for the heads up. was hoping to go there this saturday. might give it a miss now. do you think cuttings might be a better option?
In reply to
Tommyads: the cuttings is still seeping, i was at the road rage area at the cheyne cliff the other week and on the walk into there it has had a mud slide,
In reply to
Marti999: I've just got back from a walk along East side and as Marti says it's as soggy as I've ever seen it, with more rain forcast Friday night/saturday too. The only area that looked climbable was The Bower and Lower tier although a few climbs on the Cuttings main cliff were free from seepage.
There has been a sizable rockfall from the slat band above Rainshadow wall which has flattened a large area of thorn bushes and left the cliff now nice and open to the sun (every cloud..etc).
The bouldering around The Bill (hidden cove etc)is rather damp but "might" dry with an hours sun and the same applies to Neddyfields main cliff but I'm not sure it's safe to walk under Godnor at the moment.
I decided against venturing onto the West side, the bank is just too wet and slippy for reasonable access.
Like Marti says, take care and before you climb stand back and have a good look at the top of the cliff - it might just save your life!

In reply to
Marti999:
Doesn't sound like I'm missing too much then!
---
This topic has been archived, and won't accept reply postings.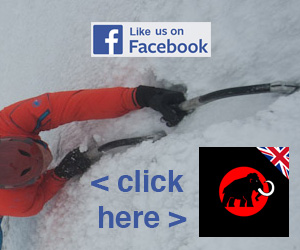 Elsewhere on the site
F ounded in 1993, Mountain Hardwear are a pretty young mountaineering clothing and equipment manufacturer but are also one of... Read more
141216
0
Tonight's Friday Night Video features the Norwegian town of Rjukan, once believed to be the home of the world's tallest... Read more
141219
0
With four photos in this week's top ten, and a UKC gallery of stunning images we thought it was time we had a chat with... Read more
141203
0
Rock shoes stink – let's face it. Boot Bananas are the perfect way to fight the funk and keep them fresh. They help... Read more
141219
0