| | |
| --- | --- |
| | / Android phone headset for mountaineering |
This topic has been archived, and won't accept reply postings.
SWMBO likes me to phone home occasionally just in case I've tripped over my crampons.

The phone is touch screen & I'm freezing my digits off using it. Don't really want a pair of touch screen gloves but I thought that a windproof & possibly weatherproof headset might be the way to go.

Does anyone use one that they could recommend?
In reply to
Alan Breck: I can foresee multiple problems trying to use a headset - especially a wired one - with a helmet, balaclava etc. Most bluetooth headsets aren't a particularly secure fit and I think it would be all too easy to dislodge and lose one.
Simpler and more reliable I'd have thought would be to buy a cheap SIM-free ruggedised non-touchscreen phone eg Samsung Solid Immerse (you can get these for less than £60 on eBay). You can program your home number as a speed dial and it would take just one button press to make the call. A phone like that is much more likely to survive the sort of abuse it's likely to be subjected to on the hill, as well. Touchscreens are not only difficult to use with gloves on - and in the wet, even with bare hands - but are also relatively fragile, Gorilla Glass or whatever notwithstanding.
You could swap your SIM in to it when you go out on the hill, or you could have a PAYG SIM just for that phone (so long as SWMBO could cope with the idea of you calling from a different number - seriously, this does confuse some people). You could even carry multiple PAYG SIMs in case the main one doesn't have any signal where you are. (Be aware that most mobile service providers will disable a PAYG SIM that's not used for a while. In the case of Vodafone you either have to make a chargeable call, or top up the SIM within 180 days. It's easy to get another SIM if that does happen, but you do lose the credit on the expired one. And it's a pain if you only discover that it's expired at the point when you wanted to use it!)
In reply to
Alan Breck:
You can get cheapy touchscreen gloves from the pound shop.
Anyways, I have the Samsung Solid Immerse as my only phone, it's a good phone.
Thanks but I'm not getting any more phones. A wireless headset is what I'm thinking on. Quite a few around that are said to cut out wind noise but I'm looking for hard facts on any one type.
In reply to
Alan Breck: I use a platronics one, cancels wind noise perfectly and though its not waterproof I have used it every day up in the dales for 18 months in all weathers and it still works. I go through headsets at least 2 a year normally but platronics seem fairly bomb proof but expensive at £90 and I have never had a headset that is secure enough to stay put all day without adjusting its position regularly.
In reply to
Alan Breck:
Or you could grow a set of balls and do what all men have done before the invention of mobiles, which is enjoy the freedom away from SWMBO.
In reply to
The Lemming: Nope........I rather like SWMBO!
Thanks for the info on the Planatronics. I'll have a look.

In reply to
Alan Breck:
The idea of going out in the hills is to get away from it all, not be intouch with "the rat race" that is everyday life! Keep the touchscreen in ya pocket and spend a pound on some gloves for when you need to report in!
Headsets arent cool anyway, especially when theres no one on the other end talking to you, such people do exist........the mind boggles sometimes!!!:-D
---
This topic has been archived, and won't accept reply postings.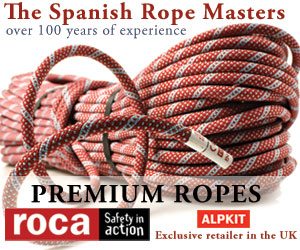 Elsewhere on the site
F ounded in 1993, Mountain Hardwear are a pretty young mountaineering clothing and equipment manufacturer but are also one of... Read more
141216
0
Perhaps the perfect Xmas gift for the climber in your life... Wild Country's Crack School has two of the worlds best crack... Read more
141219
0
PowerFingers is a simple, easy to use product which is incredibly effective for Climbers who require finger strength and... Read more
141222
0
Will Sim and Andy Inglis have made the second ascent of VIII,9 on Ben Nevis, followed by Will making a rare... Read more
141222
0
The release of Peter Jackson's new film The Hobbit: The Battle of the Five Armies on 12th December may not appear to link to... Read more
141212
0
---