| | |
| --- | --- |
| | / Banff Film Fest Returning to UK with >£25k Prizes |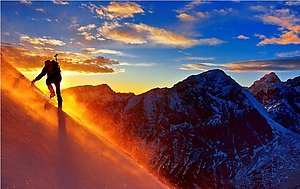 The UK and Ireland Banff Mountain Film Festival World Tour is hitting the road once again with a brand new selection of the best climbing and adventure films from some of the world's best adventure filmmakers.
The Banff Tour presented by
Arc'teryx
will bring the films, all in stunning high definition on the big screen, to loads of new communities including Malvern, North Wales, Inverness, Canterbury, Dorking, Salisbury, Exeter and Truro. We're also heading to the Emerald Isle with stops at Cork, Kilkenny, Dublin and Belfast. Come and see why more than 250,000 people across the globe gather at their local screening each year to catch up with friends and get psyched for adventures in the year ahead.
As well as seeing amazing films, you can also win some
GREAT PRIZES FROM ARC'TERYX (GoreTex Jacket), PATAGONIA, COTSWOLD OUTDOOR, KEEN, BLACK DIAMOND and SEA TO SUMMIT. There is a free CLIF BAR for everyone in the audience
.
FILMS
GIMP MONKEYS
- What has four legs, five arms, and three heads? The Gimp Monkeys! Three climbers are linked by their missing limbs, but it is their shared passion for climbing that pushes them towards an improbable goal - to achieve the first all-disabled ascent of Yosemite National Park's iconic El Capitan.
RR: HONNOLD 3.0
- Alex Honnold has become known as the boldest solo climber of his generation. In this dangerous game, how does he balance pure ambition and self-preservation? Honnold wrestles with this question in preparation for his biggest adventure yet - the Yosemite Triple. He sets out to climb Mt Watkins, El Capitan and Half Dome in Yosemite National Park, 95% of it without ropes - all within a 24 hour period!
RR: WIDE BOYZ
- American "off-width" crack climbing has spawned a counter-culture of rough and tumble characters who aren't afraid to bleed their way up a route. Two British lads, Tom Randall and Pete Whittaker, crossed the Atlantic to test themselves on some of the gnarliest wide cracks in the US, including the first ascent of the world's hardest off-width known as Century Crack.
As well as the above films, there will be a selection of other award-winning films featuring an epic expedition to the South Pole, mountain biking, skiing and whitewater kayaking.
Check out the trailer and the full list of films at
http://banff-uk.com/
DATES AND VENUES
January
25 - Forum Theatre, Malvern
26 - The Hall Venue Cymru, Llandudno
30 - Mitchell Library Theatre, Glasgow
31 - Eden Court Theatre, Inverness
February
1 - Queen's Hall, Edinburgh
2 - The Playhouse, Whitley Bay/Newcastle
6,7 - The Carriageworks, Leeds
8 - Theatre by the Lake, Keswick
9 - The Crescent Theatre, Birmingham
13 - Gulbenkian Cinema, Canterbury
15 - Komedia, Bath
16 - Lighthouse Theatre, Poole
21,22,23,26,27,28 - Union Chapel, London
March
2 - The Plaza, Stockport
7 - The Grand Pavilion, Porthcawl/Bridgend
8 - The Ffwrnes, Llanelli
9 - Corn Exchange, Brighton
14 - Dorking Halls, Dorking
15 - Gatehouse Theatre, Stafford
16 - Plaza Cinema, Liverpool
20 - OPEN, Norwich
21 - City Hall, Salisbury
22 - Corn Exchange, Exeter
23 - Victoria Rooms, Bristol
April
5 - Hall for Cornwall, Truro
10 - Devere Hall, Cork
11 - The Set, Kilkenny
12 - Awesome Walls, Dublin
13 - Waterfront, Belfast
MORE INFORMATION
If you'd like to book tickets, see more information, watch the 2012 Trailer - visit
http://banff-uk.com/
Photo by Marko Prezelj
In reply to
MarisP: Also add the Fort William Mountain Festival on Sunday 24th Feb
In reply to
Moonstone Hippy:
Yep - there is a Banff screening at Fort William as well. Its organised independently as part of the Fort William Mountain festival so different organisers, different films, etc - am sure the guys will put some info up about it soon.
In reply to
MarisP:
I went to the one in Llandudno, sadly I felt it was not worth the money. I'm sure nearly all the video's are available on-line already on Vimeo, UKC, UKrgb etc. or had been shown elsewhere recently eg Colwyn Bay.
Thought the lady at the beginning summed it up really well... 'A warm welcome to Llanberis..' err, no love, we're in Llandudno!
I was very disappointed so left before the end.
In reply to
MarisP: total shite 3 showings in scotland,,,,,,,,,, edinburgh and glasgow sold out already,,,,,,,,total shite,,,,,,run by some southerner i suppose
In reply to
count:
Check out vimeo, YouTube, ukc, ukrgb etc and I'm sure you can catch up ;-)
---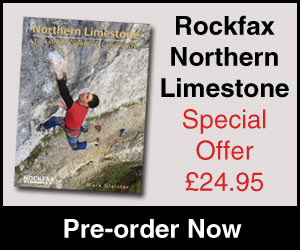 Elsewhere on the site
Perhaps the perfect Xmas gift for the climber in your life... Wild Country's Crack School has two of the worlds best crack... Read more
141219
0
Tonight's Friday Night Video features the Norwegian town of Rjukan, once believed to be the home of the world's tallest... Read more
141219
0
F ounded in 1993, Mountain Hardwear are a pretty young mountaineering clothing and equipment manufacturer but are also one of... Read more
141216
0
The release of Peter Jackson's new film The Hobbit: The Battle of the Five Armies on 12th December may not appear to link to... Read more
141212
0
Rock shoes stink – let's face it. Boot Bananas are the perfect way to fight the funk and keep them fresh. They help... Read more
141219
0