| | |
| --- | --- |
| | / climbing partner Thailand in March |
This topic has been archived, and won't accept reply postings.
Hi
I,m going to Be in Thailand from around 10 march till mid April, with my Girlfriend, we plan on heading to Chaing Mai first where my girlfriend is volunteering at a dog rescue center for a week.

I will be left to my own devices so I will be looking for a partner to climb with.
I have My own harness and shoes and belay device and screw gate.
But will need to hire the rest.
I have been travelling for 8 months, before I left the UK I was red-pointing 7a/b and on-sighting 6c, but I haven't climbed for a bit so my finger and forearm strength has gone.

Any way, if any one is going to be around at that time get in touch, I,m hoping to do as much climbing as possible,
after wards we head to Krabi so if any one is down that way from the beginning of march same applies.

Cheers




Check out chaing mai rock climbing adventures. They used to have a board outside their shop that you could sign up to find partners - if you don't find anyone from here travelling at that time. Also run trips to the crag and hire gear - possible to head out and see if you can hook up with climbers there. Krabi really easy to find partners in Tonsai (see varous threads). Getting hot that time of year though - I preferred Chaing Mai then

Cheers
Mark
In reply to
neil9216: It's so easy to find partners, the notice board at Chiang Mai Rock Climbing had loads of people, I even just booked on the mini-bus a couple of times and hooked up on route. I never had to hire gear, but I don't think it's cheap, take what you can, or hook up with people who have the kit.

In reply to
neil9216: As others have mentioned for 250 Bahts the Chiang Main Rock Climbing Adventures people will deliver you to and from the crag, give you lunch and as much fresh water you can drink - I was there last July and had three great days climbing with complete strangers, all accessed through their amenable notice board. Not sure if I should mention the Snake I met, fortunately I was struggling up 6a+, whilst it was happily ascending the 7a to the left - it didn't bother me and I didn't bother it.
The CMCRA are within the city wall in Chiang Mai, on the south east side ab
Hope your girlfriend enjoys tending the Ma Wats (Thai people tend to dump unwanted dogs at temples).
---
This topic has been archived, and won't accept reply postings.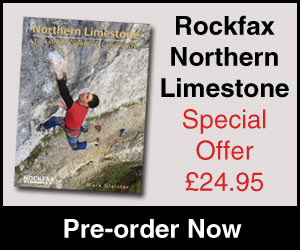 Elsewhere on the site
Perhaps the perfect Xmas gift for the climber in your life... Wild Country's Crack School has two of the worlds best crack... Read more
141219
0
Will Sim and Andy Inglis have made the second ascent of VIII,9 on Ben Nevis, followed by Will making a rare... Read more
141222
0
PowerFingers is a simple, easy to use product which is incredibly effective for Climbers who require finger strength and... Read more
141222
0
At a bar in Llanberis an old man chimed in And I thought he was out of his head Being a young man I just laughed it off When... Read more
141203
0