Conditions are serious but excellent. Crampons have been going on not far above 400m. Neve, often iron-hard, continues right up to 800m with windslab accumulations quite extensive above here. Fortunately these seem pretty stable and there has been nothing fresh to add to worries for over a week now.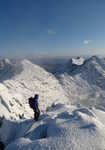 http://www.ukclimbing.com/images/dbpage.html?id=211972
The crest has a good covering that varies from rock-hard to (more often) semi-consolidated powder in drifts; about knee-deep or so. Most worrying is traversing on the flanks.
Climbing conditions are amazing, particularly on the mid-level cliffs. New routes this weekend included Branching Gully (IV) on An Dalliad, a line right of Waterpipe (III), Dyke Gully & Buttress (V,6), Far from the Crowd (IV), South Crack of Caisteal a Garbh Coire (IV,5) and Vixen Groove (V,5).
Possibly the greatest epic of the meet was Dave Fowler's 50m space "walk" along the glacis above the Cioch Slab. Totally banked out and reaching the end of the rope he then had to hope Ally would start taking the rope back in as he came back!
Drinking conditions are ideal too:)