| | |
| --- | --- |
| | / Ailefroide France |
This topic has been archived, and won't accept reply postings.
Off to Ailefroide in August, cant find any information about going around the place if the car is essential there? Also what is the best way to get there without a car?
In reply to
tomaszsvd: can be tricky without a car, I flew to lyon, train to argentiere de la besse and hitched to Aillefroide. once your there though there's plenty to do without the need for a car. however with a car, you can get supplies cheaper from briancon and can explore some other crags and via ferata's. plus on your rest day there is a nice lake a short drive away.
In reply to
tomaszsvd:
Tain to Argentiere la Besse. Short walk across town. Twenty minute hitch up the hill to the main campsite. Put your rope on the outside of the sack to show you are a climber.
In reply to
tomaszsvd:
i live just down the valley from Ailefroide about 20 mins away,
in terms of a car no you donít need one, there is a really nice campsite in the valley and most (all) of the granite climbs are an easy walk from there,
there is a small supermarket just up from the campsite and a very nice bar just past that, you can get a weather forecast at the guides hut as well, there is one good climbing shop, and a great little cafe (these guys stay open just about year round, when it is shut off in the winter and everywhere else there has shut so support them if you can)
as for getting to the area car free, fly to Turin you get a bus to the porta nova train station and then a train ouix, from there you can get a bus to briancon, from there you have some options?
having said that a car will give you access to some other great climbing there are about 73 single pitch and multi pitch sports crags or sectors, granite, limestone and conglomerate rock types. Plus lots of big alpine climbing and big wall rock climbs in the Ecrins and the massive Ceres (this places rocks)
as well as a lots of via ferrata's
Check out my facebook dream-trail.com for some picks of the area
And get in touch if you wonít any help advice
The local climbing guide for the area is sold by Needlesports, and available at the following link. The guides have been updated twice recently and feature easy to follow instructions and topos of the are.
http://www.needlesports.com/Catalogue/Books-Maps-DVDs/Foreign-Climbing-Guides/Europe/France/Ecrin-Da...

In reply to
tomaszsvd: I recall when I first went there c2001 we were able to get a taxi up from A-le-B station, after that we hitched up & down between pelvoux village as necessary.
+1 for the Turin route, having driven a few times this was a revelation, and we were able to hire a car there for a pretty good rate through auto-europe.com.
---
This topic has been archived, and won't accept reply postings.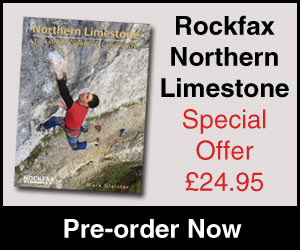 Elsewhere on the site
Perhaps the perfect Xmas gift for the climber in your life... Wild Country's Crack School has two of the worlds best crack... Read more
141219
0
Will Sim and Andy Inglis have made the second ascent of VIII,9 on Ben Nevis, followed by Will making a rare... Read more
141222
0
With four photos in this week's top ten, and a UKC gallery of stunning images we thought it was time we had a chat with... Read more
141203
0
PowerFingers is a simple, easy to use product which is incredibly effective for Climbers who require finger strength and... Read more
141222
0