| | |
| --- | --- |
| | / How many quickdraws and which rope? |
This topic has been archived, and won't accept reply postings.
Hi all. A friend and I have been climbing indoors regularly and want to try sport climbing outdoors; the quarries in the rockfax peak limestone to be exact. I'm guessing a 60 metre rope would be best, but we have no idea how many quickdraws we'd need, advice please!

Thanks, Matt.
In reply to
mattfordcoys: 60 will do for most of the stuff in the quarries but not all. Not sure about quickdraws but 15 should be safe.
Don't forget slings, screwgates and helmets.
In reply to
JimboWizbo: Someone can probably give a more educated guess regarding number of QDs
You should be fine with 10 QD's from my memory of horseshoe but an extra few are handy just in case you drop one.

As said above, 2 slings with screwgates as well to make you safe for the changeover at the top. Most lines are fine with a 50m rope but for the extra few quid getting a 60 will be better.

I seem to remember rockfax stating the number of clips per route. Could be a different guidebook i'm thinking of though.
In reply to
antdav:
Take a dozen, as others have suggested, then when you get there count the number of bolts on each pitch and take a couple of extras. Also, at least one sling plus screw-gate krab to attach directly from the harness to the top bolts.
If you are new to this, make sure you thoroughly understand the safe way of threading the bolts or chains at the top of the pitch: the key points are that you should never be detached from the rope nor should your second stop belaying you until you are back on the ground. Think safety first!
In reply to
John Stainforth:
echo this re tying in at top...practice a few times first on the ground! You might want to think about taking a mallion or an old screwgate with you just in case you need to bail out of a route.

In reply to
mattfordcoys:
Also - why sports climbing? Don't believe that trad is out of your reach. You only need a bit of gear to be able to set up a top rope to start off with and trad will open up so many more routes on such great rock....
---
This topic has been archived, and won't accept reply postings.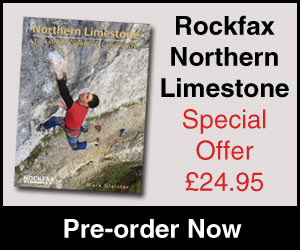 Elsewhere on the site
Perhaps the perfect Xmas gift for the climber in your life... Wild Country's Crack School has two of the worlds best crack... Read more
141219
0
Will Sim and Andy Inglis have made the second ascent of VIII,9 on Ben Nevis, followed by Will making a rare... Read more
141222
0
The release of Peter Jackson's new film The Hobbit: The Battle of the Five Armies on 12th December may not appear to link to... Read more
141212
0
F ounded in 1993, Mountain Hardwear are a pretty young mountaineering clothing and equipment manufacturer but are also one of... Read more
141216
0
PowerFingers is a simple, easy to use product which is incredibly effective for Climbers who require finger strength and... Read more
141222
0
---