| | |
| --- | --- |
| | / CAF or CAS... which one to join |
This topic has been archived, and won't accept reply postings.
Was just wondering which one is more beneficial to join, the Swiss Alpine Club or the French Alpine Club?

Is there a big difference? They seem to cost about the same and offer similar insurance & hut discount rates. CAF is a little more hassle as they need a medical certificate.

Any useful information will be very much appreciated.
In reply to
rockstoned: It really depends on why you want to join one of them.
The Swiss Alpine Club doesn't offer any form of insurance other than in certain specific circumstances. Youth members (under 20 I think) get REGA coverage but this is not what one would normally consider insurance. As you're in Genève your employer should give you accident insurance as required by Swiss law.
http://www.svv.ch/fr/publications/guide-de-l-assurance-accidents-obligatoire-laa
The French offer proper insurance for an additional fee.
Both club magazines are decent if that's in any way important. SAC have lots of courses that are cheaper as a member.
I'm a member of both as each has certain advantages for me.
Ewan
In reply to
rockstoned: we joined the Austrian AC one year for the hut discounts
if thats your main motivation then it might be worth having a look at the price. not sure about insurance though
In reply to
rockstoned:
Depends why you may be considering joining.
I have always found the Austrian Alpine club offers the most relevant benefits for me, reduced overnights in huts and insurance, all for a very reasonable fee, £43.50 for 2013
www.aacuk.org.uk
The BMC offering of a reciprocal huts card at £40 plus your club/individual membership fee and no rescue insurance doesn't seem good value to me.
Thanks for the replies.

Was looking at joining mainly for European climb/ski/canyoning insurance & hut discounts.

The Austrian Alpine Club membership (£44) - the insurance covers rescue upto €25k, medical treatment €10k.

With CAF membership with personal insurance costs £74 but you get upto €30k rescue costs cover and €80k for medical expenses. You need to presenent a medical certificate which costs another €23 and some time.

I ended up going with The Austrian Alpine Club.
In reply to
rockstoned:
the austrian Alpine club OEAV also includes a very good worldwide insurance .

In reply to
alpinist63:
Yes. From the T&Cs:
"Insurance Scope
Alpine Association Worldwide Service (AWS) provides insurance
cover for all Oesterreichischer Alpenverein (OeAV) members
who require rescue services as a result of accidents occurring
in the course of leisure activities. Costs for repatriation, transfer
and medical treatment are covered for accidents occurring in
the course of leisure activities or business as well as for illness.
AWS is valid worldwide, with the exceptions that the third-party
insurance and legal protection insurance are restricted to Europe."
---
This topic has been archived, and won't accept reply postings.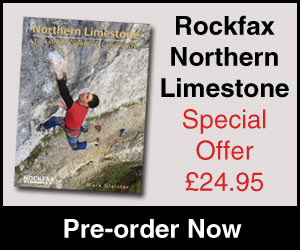 Elsewhere on the site
Will Sim and Andy Inglis have made the second ascent of VIII,9 on Ben Nevis, followed by Will making a rare... Read more
141222
0
F ounded in 1993, Mountain Hardwear are a pretty young mountaineering clothing and equipment manufacturer but are also one of... Read more
141216
0
At a bar in Llanberis an old man chimed in And I thought he was out of his head Being a young man I just laughed it off When... Read more
141203
0
PowerFingers is a simple, easy to use product which is incredibly effective for Climbers who require finger strength and... Read more
141222
0
Perhaps the perfect Xmas gift for the climber in your life... Wild Country's Crack School has two of the worlds best crack... Read more
141219
0
---