| | |
| --- | --- |
| | / Touring in Austria |
This topic has been archived, and won't accept reply postings.
Just a bit of info for those who seek a good destination for touring in the Alps. Theres a lot of talk about France as it seems the go to place for ice climbing and skiing in general but Austria really is the hidden gem.

Alpine feel in even the biggest resorts no big tower blocks like in France. So much skiing you will never see the end of it.

Been flying to Munich the past ten years. Then simply a 45 drive to Bavarian Alps or maybe an 1.5hr to the main Inn valley in Austria. There is so much choice. You dont have to go high just look at where the snowfall has been and local weather conditions all tourist info's have weather and avalanche forecasts. Last week visited the Karwendel lying on Austro-German border. Parked car on the side of road at 900m then ascended a 2100m peak. First through forest then onto upper slopes/ridges to summit.

Deep powder stunning views. Down to devour masses of meat and wheat beer, if thats your sort of thing!

In the same week altered days of touring with ice climbing as they seem to go hand in hand for me. Again the quality of routes are fab. Check out Kuhtai and Sellrain valleys off the main Inn valley, its high valleys in Tyrol
In reply to
The Bushman: I was in Kleinwalsertal in September, doing a bit of walking and Feratta-ing and was very impressed. Thought about a ski trip to Oberstdorf area, maybe in March but Alpbach also looks good. Any recommendations for some easier ski touring ?
In reply to
The Bushman:
I'd agree wholeheartedly with the OP. We've had several holidays out there at various times of year. All these ranges around Tirol have loads of touring, enough to provide variety and holidays for years. Just back from a few days ski touring in the Kitzbuhel Alps. This range (W of Kitzbuhel, S of the Kaisergebirge, E of Innsbruck gives a very rough indication of location) is fantastic for early/mid-season skitours. Reasonable altitude, lots of routes of varying difficulty and even things you can do with a fairly high avalanche risk forecast. Later in the season, of course, it may be preferable to be higher - these hills around Kitz aren't terribly high...
The Rother ski tour guidebooks are good. There are other guides too, but I;ve not seen anything other than german language. There are some useful websites eg
http://www.tourenwelt.at/skitouren.html
or
http://www.tourentipp.de/de/touren/skitour/
too. Google translate can be useful tool if the language thing is a deterrent.
WE stayed in a great wee flat near Kufstein - €35 per person for 3 nights; nice location but very handy for the Inntal autobahn for flexibility on daytrup destinations. Bargain! And with beer at €0.50-0.80/ 1/2 litre, it's difficult to come home again :-)
In reply to
Michael Griffith:
Michael - one easy ski tour I couldn't recommend highly enough is Feldalphorn.
http://www.tourenwelt.at/skitour/9-feldalphorn.html
Of course, the fact it was sunny, cold, and 30cm fresh light powder may affect my objectivity... but a lovely hill with great views to big mountains.
Not technically difficult, but some nice fun park sections through the trees and the open meadows were relaxed, fast and fun. :-)
You can get to it by public transport, too.
In reply to
Michael Griffith:
Kleinwalsertal has excellent ski touring for all abilities, and very reliable snow cover as well. Plenty of easier tours there, and all around the Allgäu around Oberstdorf, including ones below the tree line for bad weather or avalanche conditions .
If you need any tips, let me know, I lived near there for three years, and have done most of the good tours in the area...
In reply to
The Bushman:
you're talkin sense , Austria is the dog's nuts.
It's so good and so understated .....
---
This topic has been archived, and won't accept reply postings.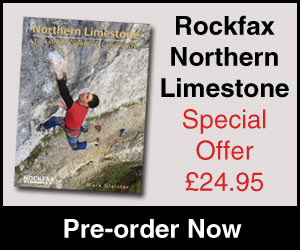 Elsewhere on the site
F ounded in 1993, Mountain Hardwear are a pretty young mountaineering clothing and equipment manufacturer but are also one of... Read more
141216
0
At a bar in Llanberis an old man chimed in And I thought he was out of his head Being a young man I just laughed it off When... Read more
141203
0
Will Sim and Andy Inglis have made the second ascent of VIII,9 on Ben Nevis, followed by Will making a rare... Read more
141222
0
Perhaps the perfect Xmas gift for the climber in your life... Wild Country's Crack School has two of the worlds best crack... Read more
141219
0
PowerFingers is a simple, easy to use product which is incredibly effective for Climbers who require finger strength and... Read more
141222
0
---