| | |
| --- | --- |
| | / Help me choose a new camera |
This topic has been archived, and won't accept reply postings.
Hi,

Trying to decide between Panasonic Lumix TZ30 and Sony Cybershot HX20.

Heart says Panasonic, but head says Sony, as follows:

TZ30 seems slightly nicer to hold, I prefer the flash being fixed and it has a nicer waterproof box for underwater. Also does HD video.

HX20 has better resolution (18.2Mp v 14.1Mp) and has a better sensor (CMOS v CCD), so better in low light.

I know people with both and both seem equally happy with them, so it's tricky.

Any opinions, or anything else I should consider? I don't really want the size of a bridge camera, can't really justify the CSC options and don't really want a dSLR.

Thanks,
In reply to
LastBoyScout:
Seems the HX20 does also do HD movies - some confusion on comparison sites.
My wife has just had a Fujifilm with the "EXR" mode. It's one mode that detects the scene and chooses the profile automatically. No buggering around with portrair, landscape, etc. It's basically the antithesis of an SLR. We paid about £100 for it, it was reviewed late 2012 at £230 as a good camera for 2013 - so very pleased with the price, which had dropped because a new model arrived.
In reply to
LastBoyScout: Sony for loads of low light stuff, Panasonic for brilliant sunlight. Done loads of testing on this subject for work. Sony is REALLY good in low light, kept up with a football match at night (5 a side, not Old Trafford flood lit). Took the Panasonic to 20-20 in the summer and the images are fantastic, sharper than the Sony for sure, less than great in low light though.
In reply to
Philip:
Yep they are pretty good for a low cost small package, those Fuji ones. I had the F300EXR for a while, sold it on in the end because I got drawn into the dubious world of pixel-peeping and decided that it wasn't up to scratch (really I just needed a quick £90 and a mate needed a decent camera...)
This lot, whilst not exactly SLR quality, was mostly taken at the 360mm-equivalent end of the zoom, ASA 800 or 1600, no flash.
http://bit.ly/VA5HW8
I was impressed at what you can get away with these little cameras these days!

In reply to
LastBoyScout:
Bought Panasonic in the end - there were a couple of things about the Sony that would annoy me.
---
This topic has been archived, and won't accept reply postings.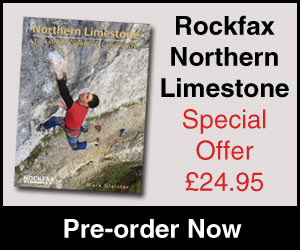 Elsewhere on the site
The release of Peter Jackson's new film The Hobbit: The Battle of the Five Armies on 12th December may not appear to link to... Read more
141212
0
Perhaps the perfect Xmas gift for the climber in your life... Wild Country's Crack School has two of the worlds best crack... Read more
141219
0
Tonight's Friday Night Video features the Norwegian town of Rjukan, once believed to be the home of the world's tallest... Read more
141219
0
Rock shoes stink – let's face it. Boot Bananas are the perfect way to fight the funk and keep them fresh. They help... Read more
141219
0
F ounded in 1993, Mountain Hardwear are a pretty young mountaineering clothing and equipment manufacturer but are also one of... Read more
141216
0