| | |
| --- | --- |
| | / Beginner - looking for advice! Please read! |
This topic has been archived, and won't accept reply postings.
Hi, my names Ashley Carr and I have just booked an introductory course in Arolla and a Mont Blanc extension in July. I am using this as a start towards a life in the mountains and I am wondering where is best for kit, and if there is anyone willing to join me to further my experiences after this trip. I have been to 5500m before buy just as a trek. As well as scrambling and so on in the Snowdonia mountain range. Thank you
In reply to
Ajcarr44: Depends where you live and exactly what kit you are after. If you are a novice I would strongly recommend visiting a shop and not buying on line, especially for boots and crampons. Needle Sports in the Lakes are very good as is Joe Browns and V12 in Llanberis. Shops like these will give you valuable advice, based on experience, that is sometimes lacking in the bigger chains like Cotswold and Go Outdoors particularly with regard to technical hardwear. These shops however can be good for clothing and expertise is sometimes store dependent.
In reply to
Ajcarr44: thank you for your help. I live near conwy, I have just been to Cotswold for advice and the woman there was really good an helped me out a lot. Gave me discount on the bag I bought. I will check these and get my boots fitted properly, probably get some Nepal evos or something similar.
In reply to
Ajcarr44:
I was in a similar situation to you a couple of years ago. I did Mont Blanc last year and would say first and foremost forget kit, make sure your fit! Luckily you have Snowdonia close by so plenty of mountain running and scrambling will stand you in good stead. I don't know what company you are going with but most seem to be able to hire you kit. I wouldn't worry about buying axes and crampons too soon but its worth getting a decent set of boots and breaking them in. I've rented boots a few times now and been both unlucky and lucky with the fit!
In reply to
Ajcarr44: Personally I would recommend Cotswolds. Try gear on in outdoor stores, then go online and get what you are looking for in the size you need for usually much less!
In reply to
Ajcarr44: isnt outdoor research pretty good with a life time warranty?
In reply to
Ajcarr44: OR is fantastic kit and V12 outdoors which is online have been running some good discount on OR kit ,and yes its infinity warranty!
---
This topic has been archived, and won't accept reply postings.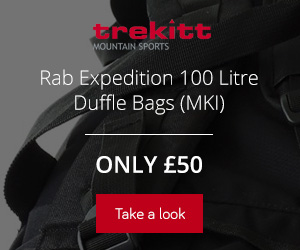 Elsewhere on the site
F ounded in 1993, Mountain Hardwear are a pretty young mountaineering clothing and equipment manufacturer but are also one of... Read more
141216
0
The release of Peter Jackson's new film The Hobbit: The Battle of the Five Armies on 12th December may not appear to link to... Read more
141212
0
Rock shoes stink – let's face it. Boot Bananas are the perfect way to fight the funk and keep them fresh. They help... Read more
141219
0
Perhaps the perfect Xmas gift for the climber in your life... Wild Country's Crack School has two of the worlds best crack... Read more
141219
0
Tonight's Friday Night Video features the Norwegian town of Rjukan, once believed to be the home of the world's tallest... Read more
141219
0
---