| | |
| --- | --- |
| | / Problems crossing from Israel to Jordan with climbing kit? |
This topic has been archived, and won't accept reply postings.
A few of us are off to Wadi Rum in April and I planned to fly in through Tel Aviv with one of the budget airlines. Spoke to a couple of climbers from Israel about doing some climbing there when one mentioned that he had heard of problems at the border with climbing equipment being confiscated by Jordanian authorities. Does anyone have any experience of this? Google draws a blank.

Cheers,
I.
In reply to
Iggy_B:
I'm considering a trip out early this year. Would be interested in hearing any tips you've got for planning. Though why not fly direct into Amman? I've found some really cheap flights. London to Amman £200 return
In reply to
Iggy_B: We did a trip to Wadi Rum with a cheap flight to Sharm el Sheikh. Lots of problems trying to cross from Egypt to Isreal (they kept us for 6 hours) but none at the Isreal-Jordan Border.
In reply to
Iggy_B: We took the ferry to Aqaba from Egypt, they looked through our bags on the Jordanian side and asked us about all the metal. We took out our biggest cam and said it was climbing equipment. The usual interest generated with cams and how they work and we were on our way :) I found folk most polite and friendly in Jordan including all officials we dealt with. Have a great trip.
In reply to
Iggy_B: I have crossed from Israel to Jordan on a climbing trip in around 2001.
Wasn't a major problem, but was a bit of a faff. No climbing gear was confiscated. Water and food was taken off us though.
Would be a lot easier to fly direct to Jordan I would say.
Hope you have a good trip.
J
In reply to
Jack Geldard - UKC Chief Editor:
They took batteries from mobile phones on one of my trips there.
I found i had more trouble getting back into israel from jordan but had crossed the border several times in a couple of months.

In reply to
richparry: Thanks for the replies all. We e-mailed the embassy and are hoping to have it in writing. I have a sneaky suspicion that it might just have been an Isreali-Jordanian problem.
The reason for going to Israel first? Partly country bagging and partly not wanting to miss the opportunity of knowing some climbers there and so having a look around!
If anyone is interested in joining we're there 18-28 April, the others all climb sub HVS so I'd be keen for someone with loftier ambitions!
Cheers,
i.
---
This topic has been archived, and won't accept reply postings.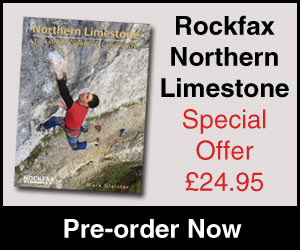 Elsewhere on the site
Perhaps the perfect Xmas gift for the climber in your life... Wild Country's Crack School has two of the worlds best crack... Read more
141219
0
F ounded in 1993, Mountain Hardwear are a pretty young mountaineering clothing and equipment manufacturer but are also one of... Read more
141216
0
Rock shoes stink – let's face it. Boot Bananas are the perfect way to fight the funk and keep them fresh. They help... Read more
141219
0
On Saturday 13th December Greg Boswell and Guy Robertson kicked off their Scottish winter season early by making the... Read more
141218
0
The release of Peter Jackson's new film The Hobbit: The Battle of the Five Armies on 12th December may not appear to link to... Read more
141212
0
---