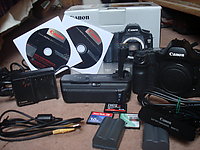 Hello!
I am selling my Canon 5D as a kit with an official Canon battery grip (BG-E4), 2 batteries, neck strap, 3 Compact Flash cards (4GB, 2GB and 1GB), all software and drivers and a charger.
It is in excellent condition with the only damage is a slight surface scratch on the upper LCD screen (this is just cosmetic, no actual damage) and the usual slight wear on the flash shoe. The battery grip is in pristine condition and has the BGM-E2 magazine where you can use AA batteries which can be very useful!
I was using this camera as a back up to my MKII and I have decided after 2 years to go for something a little less bulky. It has been used minimally and has been very well looked after. The camera has always been stored in a padded bag, has suffered no shocks or fluctuations in temperature.
It is a very easy camera to get to know and takes fantastic shots; will be sad to see it go. The only reason I'm selling is my photography is changing from event work to hauling up mountains where admittedly it can be a bit bulky.
The kit contains:
Canon 5D body and cap,
BG-E4 battery grip,
All software and drivers,
Neck strap,
2 Canon batteries,
BGM-E2 AA battery magazine,
3 Compact Flash memory cards: 4GB, 2GB and 1GB,
Original boxes and
Original manuals.
All the images in this gallery on my old site were taken on this 5D:
http://www.gemcowenphotography.co.uk/commercialgallery/gallery2.html
as were about half of these:
http://www.gemcowenphotography.co.uk/photos.html
so all in all in takes pretty good pictures!
I am having it professionally cleaned tomorrow (08/02/13) so that it is spick and span for you.
I will send Parcelforce 48 within 2 working days. I will also insure the camera for the selling price throughout transit.
If you have any questions please feel free to ask. I do have more photographs of it if needed.
I am looking for £600 or reasonable offers.
I also have a pair of Rab Neoshell Trousers, they are a womens size 8 and they have been worn twice. In excellent condition. I bought them in a rash moment when I thought winter climbing was fun, turns out I'm more of a summer person.
Looking for £70 or offers.
Red Chili Spirits size 5, used but in very good condition. Ideal for a beginner or a comfy pair of shoes. Offers please!
Metolius finger board, barely used and in good condition.
http://www.rockclimbing.com/gear/Training_Accessories/Hang_Boards/Pure_Force_CNC_Training_Board_519....
£40 ovno.
Thanks!