Premier Post - Kalymnos-Beautiful Apartment For Sale 89,950euro
by - kalymnos85200
on - 11 Feb 2013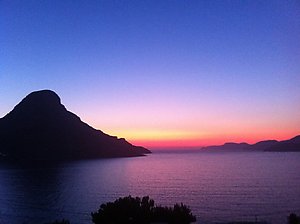 Kalymnos Island, Dodecanese, Greece - Famous for its incredible & beautiful climbing sectors, this is a wonderful opportunity to purchase a 'priced to sell' quick! *(89,950 euros)* Apartment in the Gorgeous Armeos/Massouri area of the Island with many famous Kalymnian climbing routes/sectors only minutes away. It is very spacious being 'open plan' with a large lounge - reading & dining area - good sized kitchen - double bedroom & a bathroom with shower suite. The apartment would sleep 4 - 6 easily & is being sold complete with all furniture & all electrical appliances which include, to name but a few items, wall fire, oven & hob, washing machine, microwave, TV, Satellite system, stereo, telephone, broadband connection as well all the lovely internal & external furniture, including patio suite to the front & flower pots etc. 'Simply move straight in'!! There are stunning sea views over the Med out towards the nearby islands of Telendos, Leros & Patmos. For any further information &/or photographs please dont hesitate to email Suzie or Rob, or alternatively telephone or text 07792 042921. susan-c-t@talk21.com or kalymnos85200@gmx.com *(lots of fellow climber neighbours & potential climbing partners all around)*
by - carl dawson
on - 12 Feb 2013
Hi, this my neighbours' apartment. It's very pleasant as it's virtually below Poets and Zeus. Only 10 minutes walk to the nearest route! It's also very handy for the shops and bars, and yet it's far enough to be quiet and discrete. It's the posh end of the village and the patio is the envy of the neighbourhood! Really nice, definitely recommended.

Carl and Ruth
by - Chris Craggs
on - 12 Feb 2013 - chriscraggs.blogspot.com
In reply to kalymnos85200:

Might it be possible to ask why you are selling?


Chris
by - kalymnos85200
on - 12 Feb 2013
In reply to Chris Craggs:

Hi, Chris

We've just found out we're going to be Grandparents and want to be nearer the UK as a result. I know, we're way too young, but looking forward to him/her coming along x
by - Chris Craggs
on - 12 Feb 2013 - chriscraggs.blogspot.com
In reply to kalymnos85200:

Thanks for that. I know they are great apts, having visited Aris's place which I believe is next door. We are in Kaly at the end of March - might have to pop round ;-)


Chris
by - kalymnos85200
on - 12 Feb 2013
In reply to Chris Craggs:


If we're still here, make sure to say hi - if anything, would be nice to put a face to a name.

Aris is on the back, whereas our apartment is on the front - the first one you come to, as you turn up from the main street at the bottom x







by - pauljackson
on - 13 Feb 2013
In reply to kalymnos85200: Hi. I have messaged you, but received no reply? Paul.
by - kalymnos85200
on - 13 Feb 2013
In reply to pauljackson:

Hi, Paul

I did get back to everyone with photos etc as requested - used the talk21 address. Maybe you could check your spam box?

Will send another email as well and if you could let me know once you've received it.

Thanks.

Suzie x
by - Christopher Sykes
on - 22 Feb 2013
In reply to kalymnos85200:
If you are looking for a place in Kalymnos that's a walk up the hill from Grande Grotta and plenty other climbing sectors look no further. I live just up the road and this is in a perfect spot just outside Massouri with a view to die for and all the local amenities within walking distance whilst maintaining privacy from the masses. Chris
by - mux
on - 23 Feb 2013
In reply to Christopher Sykes: I would second that Chris great location ..
My floks have a place just down the rd ..I say have a place .. Really they are just looking after it for me until they croak !! :)

Say hi for me wont you Sue !


by - kalymnos85200
on - 12 Mar 2013
Thanks for your interest, guys, but we've just sold the apartment x