| | |
| --- | --- |
| | / Blackden Brook ok to scramble, tomorrow? |
This topic has been archived, and won't accept reply postings.
Anyone either know this bit of the peak really well or going down snake pass today?

Thinking of taking our lad up Kinder using Blackden Brook tomorrow, but I'm guessing with the snow melt and recent rain, that might be a poor choice.

Anyone know any better?
In reply to
Phil Lyon:
Last time I did it there were a few awkward places. Not so much scrambling as hanging on to clumps of heather with your hands, hoping that the crumbling soil would hold your feet. It's all quite eroded with a couple of drops where you could get hurt if you were unlucky. We caught up with a chap who said he'd had "a couple of moments" on it.
In reply to
Phil Lyon:
The water will probably be pretty high. You have a few options. The lower part of the brook has some tricky steps which are probably waterfalls at present. These are avoided on the right by a path which is eroded in places giving some exposure. The path joins the upper section which is better and shortly after this the brook splits into 2 parts. The main brook bears right and heads up a series of shelves and small steps which are likely now under shallow fast moving water. The left branch is better and heads up a steeper, blocky gully.
I've never done it after prolonged wet weather so can't comment any further on whether you'll be able to get on it.
In reply to
Phil Lyon: Personally I wasn't that enamoured with Blackden Brook. It's pretty watery in summer and the best bit is a short bouldery gully second left at the top. If you can I would skirt round to the east and check out Red Brook in preference, or right around to the south and look at the Cloughs route. Everywhere will be wet of course but the southern cloughs seem to be cleaner grit, but that's just my $0.02. Have a good day out.
In reply to
Andrew Deacon: I agree, thought Blackden was a bit of a non-event. Grindsbrook (using the alternative, right-hand exit) and Crowden are far better but I'd imagine both could be out due to water levels. Also all the brooks can hang on to ice for quite a while so could be sloppy.

In reply to
Phil Lyon: Did Grindsbrook today, lots of water, hardly any ice left but lots of veru sloppy snow. Melting furiously, 8 degrees this afternoon. Blackden will be similar, usually carries plenty of water. At 400m currently the general snow cover has gone but there are still lots of snow banks around, there will still be some left in the morning.
---
This topic has been archived, and won't accept reply postings.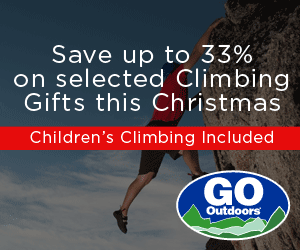 Elsewhere on the site
F ounded in 1993, Mountain Hardwear are a pretty young mountaineering clothing and equipment manufacturer but are also one of... Read more
141216
0
Will Sim and Andy Inglis have made the second ascent of VIII,9 on Ben Nevis, followed by Will making a rare... Read more
141222
0
Perhaps the perfect Xmas gift for the climber in your life... Wild Country's Crack School has two of the worlds best crack... Read more
141219
0
PowerFingers is a simple, easy to use product which is incredibly effective for Climbers who require finger strength and... Read more
141222
0
With four photos in this week's top ten, and a UKC gallery of stunning images we thought it was time we had a chat with... Read more
141203
0