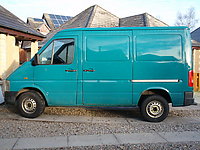 Price: £3
For Sale VW LT35 Van - semi converted £3,450 ONO
Volkswagon LT35 Van - semi converted
2003, 2461cc, TDI, Diesel, short wheel base, medium high roof, Mileage 80000, MOT'd till 09/03/13, taxed till end of April,
Price: £3,450 ONO.
Ex Council van when we brought it so it was hardly ever used. We have only used it for holidays.
In good condition just slight general cosmetic damage inside and out. The mirror on drivers side has a damaged outer casing but the mirror its self is intact.
Insulated, damp proofed and ply lined van, cushions and curtains made from same good quality thick material.
Built in Stainless steal Tasman stove hob and grill available for additional £150, Set up for camping hook up plus leisure battery, electric lighting and inverter set up (inverter not included). Fitted rotating air vent in ceiling.