| | |
| --- | --- |
| | / Please recommend a rope |
This topic has been archived, and won't accept reply postings.
Just finished up in Tonsai and donated my 60m 9.6mm Beal Booster III to the Thaitanium project. I'm after something new.

Ideally I'd like to reach a point where I have a working rope and a RP/OS rope; both 60m as I primarily climb at Portland where routes are not 30m long.

Right now I'm probably going for the working rope and figured a 9.6mm or so would be okay. I've had two Boosters now and want to try something different (just for the hell of it).

Can anybody recommend a good 60m rope between 9.5-10mm in diameter going for a reasonable price? Perhaps you know of some offer that's on right now?
In reply to
lewiz:
Not used the rope in the link but have used a few edelweiss ropes & I liked the handling of them they felt very good , I've got a beal topgun 2 & am not too keen on the feel of it , also have a few mammut ropes & not overly keen on their handling either but they stand up to lots of abuse .
I do like the feel of some edelrid ropes as well .
In reply to
lewiz: hi guys not totally relevant but I work in the industrial side of climbing and can get very good prices on ropes etc. Beal, mammut, edelrid, dmm . Feel free if you want a price that will beat most places I think .
In reply to
lewiz: Mammut Vertex ropes are pretty cheap compared to the rest. Most than happy with mine. It is a full 10mm though but has been a lot nicer to clip with than a 35m beal wall rope.
Thanks for the responses. Seems as though a few people are not totally impressed with the Beal feel and so since the price is right on the Edelweiss, I've just gone and ordered it. Here's hoping it runs smooth for a long time :)
---
This topic has been archived, and won't accept reply postings.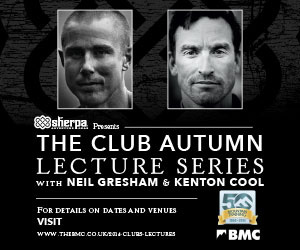 Elsewhere on the site
Perhaps the perfect Xmas gift for the climber in your life... Wild Country's Crack School has two of the worlds best crack... Read more
141219
0
Rock shoes stink – let's face it. Boot Bananas are the perfect way to fight the funk and keep them fresh. They help... Read more
141219
0
Tonight's Friday Night Video features the Norwegian town of Rjukan, once believed to be the home of the world's tallest... Read more
141219
0
With four photos in this week's top ten, and a UKC gallery of stunning images we thought it was time we had a chat with... Read more
141203
0
F ounded in 1993, Mountain Hardwear are a pretty young mountaineering clothing and equipment manufacturer but are also one of... Read more
141216
0