| | |
| --- | --- |
| | / Silveretta Ski Tour |
This topic has been archived, and won't accept reply postings.
Hi,

Myself and my buddy are off to do our first mutli day ski tour this year. We plan on doing the Silveretta in Austria and would value any beta from people who have done this before.

Specifically,

1. Any cheap hostels to stay in Ischgl before we head to the hills.
2. Any places we can hire transceivers in or around Ischgl.
3. Any places we can get away with dossing down in the back of a van if Ischgl has no cheap places to stay, oh and public loos etc.

We think we have the beta and all the hut info its the logistics before the route that would be helpful but any information at all would be welcome.

Ta, Kev
In reply to
elcapitainkev: I borrowed a replacement tranceiver nearby when mine didn't work. Several clubs will lend tranceivers, smc, eagles, alpine may be an option for you.
Have fun
In reply to
elcapitainkev:
Ischgl and cheap can never be used in the same sentence. Try and arrive early morning the day you are leaving and spend the first night in the mountain huts. You can sleep down the valley in your van but all the parking is Ischgl is paid parking.
Good first tour though with great huts and straight forward tours each day.


Before we did the Silvretta tour we stayed in a hotel in Landeck and got the first bus up the valley on the morning we started the tour. I think it was quite reasonable price wise and certainly much cheaper than Ischgl.
In reply to
elcapitainkev:
If you're looking for reasonably priced accommodation, staying in Landeck . Ischgl is pricey and I'm not even sure it has a hostel. Landeck, on the other hand, is very reasonable.
Parking in Galtur is cheaper than Ischgl and, as you're more likely to descend back to valley up near to Galtur, it's convenient too. Galtur leisure centre is the parking area recommended by Jamtal hut - we've done it for several days while up in the hills - and not too pricey. You'd probably be ok dossing in the van in Galtur overnight, and there's a free (I think) ski bus which runs regularly Galtur-Ischgl (if it's not free then it's only a few €).
Can be fun skiing around there. Huts are more like hotels than mountain huts. Make sure you have plenty cash for the bar!
Would definitely recommend spending the € on day lift ticket so you can ski into Heidelberger Hut via Zeblasjoch - skinning up the valley would be long, flat, and tedious. It's an easy afternoon ski from the top lift station over the joch and down to the hut, which means you save a little by waiting until (I think) 1400 to get a cheap(er) afternoon only lift pass. Alternatively the hut runs a shuttle service in late afternoon which is convenient if the weather is minging.
have a great time

In reply to
inboard: Was about to write that the only time I toured in the Silvretta we started in Galtur, finishing in Ischgl around midday with plenty of time to get to somewhere cheaper before travelling home the next day
---
This topic has been archived, and won't accept reply postings.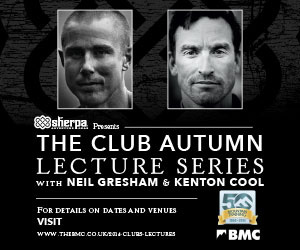 Elsewhere on the site
At a bar in Llanberis an old man chimed in And I thought he was out of his head Being a young man I just laughed it off When... Read more
141203
0
Perhaps the perfect Xmas gift for the climber in your life... Wild Country's Crack School has two of the worlds best crack... Read more
141219
0
F ounded in 1993, Mountain Hardwear are a pretty young mountaineering clothing and equipment manufacturer but are also one of... Read more
141216
0
Tonight's Friday Night Video features the Norwegian town of Rjukan, once believed to be the home of the world's tallest... Read more
141219
0
Rock shoes stink – let's face it. Boot Bananas are the perfect way to fight the funk and keep them fresh. They help... Read more
141219
0