| | |
| --- | --- |
| | / Editing Go-Pro |
This topic has been archived, and won't accept reply postings.

Does anyone have any recomendations for editing go-pro footage?

Thanks
Hi Minneconjou
I'm a big fan of Sony Vegas and have the 11 HD Platinum version which costs about £30. Although it is very powerful software, I found it straightforward to pick up the basics but have barely scratched the surface in what it can do after a year of using it!
Feel free to have a look at one or two of my latest efforts such as Croesor-Rhosydd, Escalando en Tenerife or Brecon Ice Climbing for example:
http://www.youtube.com/user/chdslDave/videos?view=0&flow=grid
Hope this helps and good luck! :-)
Cheers Dave
In reply to
Minneconjou Sioux:
as boldy <grin> said, vegas is quite popular and pretty cheap
there's also live moviemaker if you're a windows user or imovie on the mac
head over to the goprouser forums (google it) for loads of good tips
i've also spent hours on creative cow dot net watching video tutorials on how to do stuff in <insert your favourite editor here>
for royalty free music try "the free music archive" or jamendo <sp> if you don't want youtube moaning at you
(ps i use adobe premiere pro, it's great but the learning curve is somewhat steep)
In reply to
rallymania:
Thanks both, I'll take a look at your suggestions.
another vote for Sony Vegas
In reply to
Minneconjou Sioux:
I seem to remember that Adobe made some of their older software versions freely availbable for non-commercial use earlier this year. Might be worth a look.
M

In reply to
Marek: Technically not true. This was subject to having previously purchased a license for old software that has since been updated to newer operating systems. In essence, they don't really care as it's old, but in legal terms - it's not free.
---
This topic has been archived, and won't accept reply postings.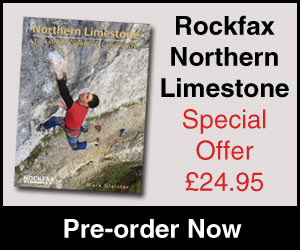 Elsewhere on the site
At a bar in Llanberis an old man chimed in And I thought he was out of his head Being a young man I just laughed it off When... Read more
141203
0
Tonight's Friday Night Video features the Norwegian town of Rjukan, once believed to be the home of the world's tallest... Read more
141219
0
Rock shoes stink – let's face it. Boot Bananas are the perfect way to fight the funk and keep them fresh. They help... Read more
141219
0
F ounded in 1993, Mountain Hardwear are a pretty young mountaineering clothing and equipment manufacturer but are also one of... Read more
141216
0
Perhaps the perfect Xmas gift for the climber in your life... Wild Country's Crack School has two of the worlds best crack... Read more
141219
0
---