| | |
| --- | --- |
| | / Boulder colorado - conditions in late May |
This topic has been archived, and won't accept reply postings.
Hi - have a possible family visit to Boulder in May coming up.

Does anyone know what the likely weather conditions will be at the crags within a couple of hours of Boulder (Colorado) - hope to do a few long trad routes as well as some bolts.

If you have been please recommend some crags and routes ( especially around the VS but up to UK e1 / sport 6c) .... think thats up to about 5.9/5.10 in US grades

thanks




In reply to
mike smash: Eldo will be ok as long as you stay out of the sun.
Likewise in Boulder Canyon you can avoid the sun but a lot of the new sport routes are rubbish
In reply to
mike smash: I've done tons of climbing in Eldo during the summer, but I guess its all relative to what you're accustomed to. You often have nice temps, breezes, and there is shade to be found. There are some very nice bolted lines on Boulder Mtn in the canyons behind the Flatirons, see e.g.
http://www.mountainproject.com/v/flatirons/105797700
Lumpy Ridge up at Estes Park is well worth the visit, nice granite routes. Will definitely be cooler up there, but its mostly south-facing.
In reply to
mike smash: The Yellow Spur in Eldorado is really very awesome, and gets enough shade to do in summer. E1 5c ish.
In reply to
mike smash: The weather will almost certainly be excellent.
Some issues - it can be hard to find things in the flatirons. Finding stuff in Boulder Canyon or Eldo is easy in comparism. I haven't been there to climb for a long time, but there wasn't very much lower grade sport close to town last time I visited. Grading ran quite hard on the trad routes, but I found some of the sport grading very soft, and some of those routes were not of great quality.

Thanks for the suggestions and links
- will do some more research.

Looks like there is a lot of choice.





---
This topic has been archived, and won't accept reply postings.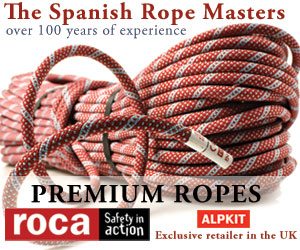 Elsewhere on the site
With four photos in this week's top ten, and a UKC gallery of stunning images we thought it was time we had a chat with... Read more
141203
0
F ounded in 1993, Mountain Hardwear are a pretty young mountaineering clothing and equipment manufacturer but are also one of... Read more
141216
0
Tonight's Friday Night Video features the Norwegian town of Rjukan, once believed to be the home of the world's tallest... Read more
141219
0
Rock shoes stink – let's face it. Boot Bananas are the perfect way to fight the funk and keep them fresh. They help... Read more
141219
0
Perhaps the perfect Xmas gift for the climber in your life... Wild Country's Crack School has two of the worlds best crack... Read more
141219
0