| | |
| --- | --- |
| | / Grivel G12 Newmatic-Crampomatic conversion -longer f points |
This topic has been archived, and won't accept reply postings.
Grivel G12 Newmatic - Crampomatic conversion giving two crampons in one and more front point with narrow welt Scarpa Boots
https://www.dropbox.com/sh/yypb3dljqsqa5ql/IHuNRo7hrY
I bought a pair of Grivel G12 newmatics in February2012 then purchased a pair of Scarpa Jorasses recently to find there was very little front points showing in front of the narrow toe box of the Scarpa's (see pics below), some had posted on UKC that they had bent the front posts back on the G12 for these boots but that looked like putting a lot of stress on an area that has been shown to fracture with Black Diamond Sabertooth stainless crampons.
So I bought a pair of Grivel G20 G22 bales from Needlesports
http://www.needlesports.com/Catalogue/Winter-Climbing-Equipment/Crampons/Crampon-Spares/Grivel/G20-F...
and bored some holes in the Grivel G12 Newmatics to convert to Crapomatic, these chromolly steel crampons are tough I broke about 4 Bosch titanium drills at near a fiver each, and the jobs taking a bit of time though someone with a proper workshop could do it quicker and probably better, 4mm for the main hole and used the side of a 3.5 to make the slotted keyhole shape.
The wire bale is getting very near to the front posts as you will see in the pic link below and the second one will be drilled slightly further back, the conversion feels quite solid I cannot shift the boot plus the posts would stop any movement of the bale.
This might look a bit weird but it gives a crampon which you can use with boots with or without front crampon welts and increases the front points wuth certain Scarpa models, Grivel do a G12 Crampomatic version so you are putting holes where Grivel puts holes the only problem could be the heat generated in drilling, will post again if
they break or any problems
In reply to
Garbhanach: I can't see thwe linkl through work...do you have a pic elsewhere as this sounds ace!
In reply to
Darkskys: No just on dropbox and there are 12 pics, your probably headed home soon anyway.
In reply to
Garbhanach: To anyone attempting this 4mm for main hole, 3.5 and 3mm to make the slot shape to get the bale in, done at low revs rubbing the sides of the hole.
The slot has to be at an angle so that when the bale is in position it is locked in secure.
Access to a grinder is usefull to try and sharpen blunt drills or drills that brake. Bosch Hss Titanium were the best I could find.
---
This topic has been archived, and won't accept reply postings.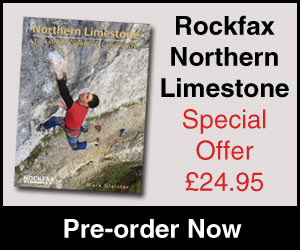 Elsewhere on the site
F ounded in 1993, Mountain Hardwear are a pretty young mountaineering clothing and equipment manufacturer but are also one of... Read more
141216
0
With four photos in this week's top ten, and a UKC gallery of stunning images we thought it was time we had a chat with... Read more
141203
0
Will Sim and Andy Inglis have made the second ascent of VIII,9 on Ben Nevis, followed by Will making a rare... Read more
141222
0
PowerFingers is a simple, easy to use product which is incredibly effective for Climbers who require finger strength and... Read more
141222
0
Perhaps the perfect Xmas gift for the climber in your life... Wild Country's Crack School has two of the worlds best crack... Read more
141219
0